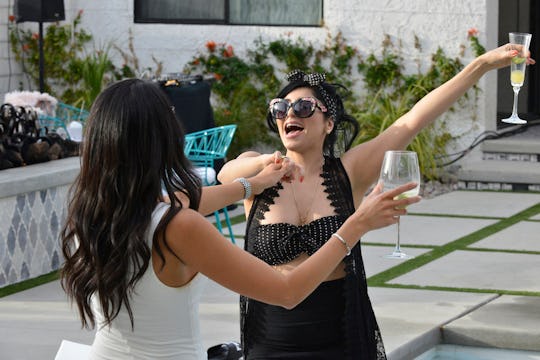 Jerod Harris/Bravo
Here's Everything You Need To Know About Destiny From 'Shahs Of Sunset'
One new cast member on Bravo's Shahs of Sunset is already dealing with jokes about her purported lesbianism because she rebuffed Mike Shouhed's advances. (Hilarious.) So longtime fans of the show may be wondering: who is Destiney on Shahs of Sunset? Well, the new addition is not a lesbian just because she doesn't want to date Mike, for one thing.
A fan called into Watch What Happens Live when Mercedes "MJ" Javid was a guest asking about the incident, and she was happy to set the record straight — and call out her fellow castmate for his inappropriate behavior. "I'm really glad you asked that question, and he should not do that because it's not her sexual preference. If someone says that they're straight, you should respect that," she said on the show. "So he's taking a joke too far because she doesn't give him enough attention. That's his way of dealing with it."
Now that that's settled, let's get to some more pertinent info about the newest member of the cast. For one thing, the 36-year-old and Bravo go way back; she used to be a regular on The People's Couch, Bravo's 2013-2016 reality series in which funny regular Joes would watch popular episodes of TV shows and live react while Bravo cameras filmed them. (It was actually a lot more charming than it sounds.)
Destiney appeared on the show with her sister Cathy, so she's no stranger to having the camera capture her every move and she's familiar to the Bravo family. At the time, she worked as the general manager of a nightclub, and according to BravoTV.com, she was already friends with Reza Farahan and Shervin Roohparvar from Shahs of Sunset. She's also a friend of Tara Radcliffe from Newlyweds.
Destiney now works as a party planner — a pivot towards a healthier lifestyle — and she planned Mike's housewarming where Asa revealed that she was pregnant. Although there was some initial flirtation between her and Mike, Destiney vehemently denied a romantic future for them on a 2017 episode of Watch What Happens Live, saying, "It would not be good." Added Destiney succinctly, "I would destroy him."
Unsurprisingly, Destiney has a huge social media footprint with over 71,000 Instagram followers, which probably generates great business for her party planning venture Liquid Sweets. She founded and serves as the CEO of the company, and its website boasts a team with over ten years of event experience. They design everything from corporate events to anniversary parties and it's obvious that Destiney takes a great deal of pride in her work. Her family looks super important to her, too, with plenty of photos featuring her being totally adorable with her mom, as well as snaps with fellow Shahs. But Destiney is clearly a light-hearted meme queen, as well, posting hilarious, self-deprecating content making fun of her own tragically slow dating life. Will she find love this season on Shahs? Fans will have to keep watching to find out.