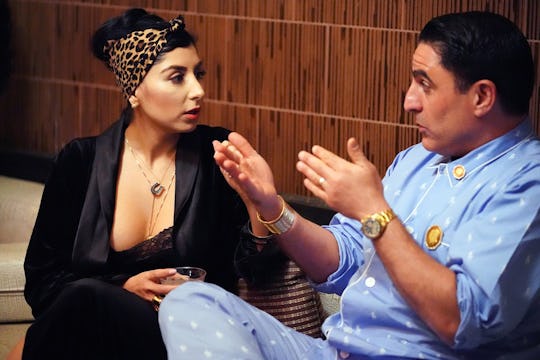 Nicole Weingart/Bravo
Destiney Rose From 'Shahs Of Sunset' Is Definitely Dating
Destiney Rose was single and eager to mingle throughout Season 7 of Shahs of Sunset, though she didn't end up starting a serious relationship this year. It came up during the reunion special, when a New Jersey fan wrote in and declared that she was being much too picky about men. Destiney laughed it off, but it prompted host Andy Cohen to ask about her current relationship status. So who is Destiney Rose from Shahs of Sunset dating?
She confirmed that she was dating three men at the moment, though she didn't share any further details about them. She kept their names to herself, as well as whether any of the relationships were becoming especially serious. She noted that only one of the men was Persian. It doesn't seem like any of Destiney's partners have made their way to her social media accounts either; on Instagram, she primarily posts about her friends or the show, with nothing in the way of romantic announcements. On Halloween, she did post a picture of herself in costume as Princess Jasmine from Aladdin, joking about having divorced both Aladdin and Jafar so she could spend the night "scouting the room for her 3rd victim."
Destiney is dating, by her own admission, but it doesn't look like she's ready to take any of her partners public yet.
In an interview with Page Six that Destiney did alongside co-star Reza Farahan, she joked about being something of a serial dater. She stated that she often made men cry, though she didn't mean to, before offering humorous shout-outs to several guys by name. "Santino, if you're out there listening, I apologize," she joked. "Jason, I'm sorry. And Bobak! I apologize to the men that I've made cry in the past, and also two weeks ago." Guys make women cry, she pointed out, so it was only fair. #Feminism, I guess?
Destiney explained what she was looking for in a man, which Reza helpfully summarized as "good job, good head on their shoulders, good circumcision." She added that she wanted a guy who was family-oriented, and revealed she wouldn't turn down a call from Keanu Reeves because "[his] heart is just everything."
Though some viewers might have thought Destiney and Mike Shouhed were especially flirtatious in Season 7, but she made it clear she wasn't interested during an appearance on Watch What Happens Live with Andy Cohen. "It would not be good," Destiney said, according to Bravo. "I would destroy him."
Mike also recently implied that Destiney wasn't straight during an interview with Jeff Lewis. But according to Destiney, Mike was only doing it to get her attention; it seems that she identifies as straight. On WWHL, she explained:
The first thought that came to my mind is that every female has encountered one of those kids in high school that was like sprung on the cheerleader, the cheerleader didn't give him the time of day, and because of that her goes around and spreads rumors. That's the kind of vibe I got. I'm the cheerleader in this scenario.
Destiney's personal life might be a popular topic of discussion on Shahs of Sunset, but it seems like she's choosing to keep things private for now.