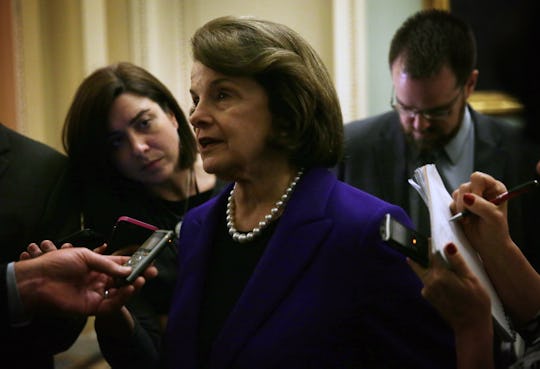 Alex Wong/Getty Images News/Getty Images
Here's What You Need To Know About Dianne Feinstein, Trump's Latest Twitter Victim
President Donald Trump, a world leader who will perhaps be remembered better for his propensity for name-calling than his diplomacy or policies, added a new name to his hit list on Wednesday morning when he lambasted California Sen. Dianne Feinstein for releasing a transcript of Fusion GPS co-founder Glenn Simpson's congressional testimony, calling her "sneaky" and implying that her actions were illegal. So who is Dianne Feinstein, Trump's new nemesis, and did she actually do anything improper?
Feinstein, a Democrat, served as Mayor of San Francisco from 1978 to 1988. She was elected to the Senate in 1992, and has been reelected four times since then, earning a U.S. Senate record-breaking 7.8 million votes in 2012. According to her official Senate biography, she helped create the nationwide AMBER Alert network, which was instrumental in the ban on the CIA's use of torture, and authored the 1994 Federal Assault Weapons Ban. She was the first woman to chair both the Senate Select Committee on Intelligence and the Joint Congressional Committee on Inaugural Ceremonies, the first woman to become the top Democrat on the Senate Judiciary Committee, and the first woman to preside over a presidential inauguration. There is no evidence that anyone besides Trump has ever considered her to be "sneaky."
Let's examine what Feinstein did, why she did it, and whether it was OK. The FBI has been investigating Russian interference in the 2016 election since before the election even ended. The House, Senate, and Special Counsel Robert Mueller later began their own investigations, focusing on the possibility of collusion between Russia and the Trump campaign. Trump and his surrogates have long insisted that the idea of Russian interference was a complete fabrication by the Democratic Party, despite every branch of U.S. intelligence publicly confirming that there is no doubt whatsoever that Russia did interfere in the election.
The most widely disseminated intelligence on the Russia affair was the so-called Steele dossier, a partially unverified and somewhat salacious document compiled by ex-MI6 spy Christopher Steele, which was published by BuzzFeed in January 2017. Trump and his supporters claim that all the allegations in the dossier are false, and that it's the only piece of evidence of Russian collusion, compiled at the behest of the Democratic Party. What Feinstein did, to put it simply, was prove that those claims are false.
In 2015, intelligence firm Fusion GPS was contracted by Republicans to collect opposition research on Trump, and in turn, hired Steele to do so. Once Trump became the Republicans' presumptive nominee, the Hillary Clinton campaign and the Democratic National Committee picked up the tab for Fusion GPS and Steele to continue their research. Steele reportedly went to the FBI of his own volition with his findings in July 2016, after he became concerned that Russia might be blackmailing Trump. In August 2017, Fusion GPS co-founder Glenn Simpson testified before the Senate Judiciary Committee about how the events transpired.
On Jan. 2, 2018, after months of repeated Republican attempts to discredit the dossier and the Russia investigation, Simpson and his business partner, Peter Fritsch, published an op-ed in The New York Times calling for the public release of Simpson's testimony. Three days later, Senate Judiciary Committee Chairman Chuck Grassley and fellow committee member Sen. Lindsey Graham, both Republicans, publicly referred Steele to the Justice Department to have him investigated for "making potentially false statements." The referral "does not pertain to the veracity of claims contained in the dossier," their announcement stated. So what exactly do they think he lied about? That's classified.
On Jan. 9, Feinstein did as Simpson requested and released his full testimony, which included the assertion that Steele's report had been corroborated by an FBI source within the Trump campaign. Simpson declined to named that source, citing his concern that "people who get in the way of the Russians tend to get hurt." But sure, Feinstein's the sneaky one.