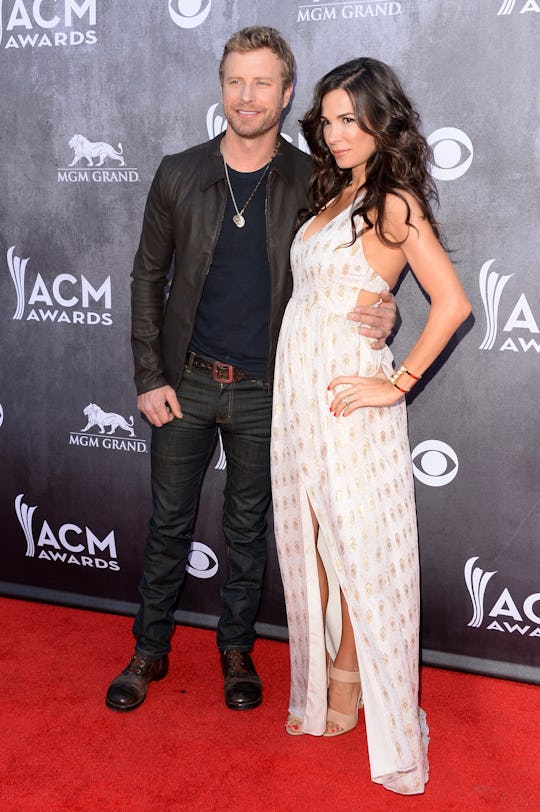 Jason Merritt/Getty Images Entertainment/Getty Images
Who Is Dierks Bentley Married To? His Childhood Sweetheart Likes Her Privacy
On Sunday, country music legend Dierks Bentley is set to co-host the 51st Academy of Country Music Awards along with fellow superstar Luke Bryan. The ACM Awards will be Bentley's first live televised event — and I bet his wife will be there in the audience cheering him on. Who is Dierks Bentley married to, anyway? Despite being one of country music's hottest stars right now, Bentley's wife Cassidy Black is a pretty private woman. Across his Twitter and Instagram feeds, you'll find more pictures of his dogs Jake and George before you'll see any of his wife of 11 years. But don't let her social media shyness fool you: Bentley and Black are head over heels for each other.
The pair go way back: Bentley and Black were childhood sweethearts growing up in Phoenix, Arizona. Speaking to Country Weekly in 2009, Bentley admitted he had a crush on Black while he was dating her best friend in eighth grade. After years of an on-again, off-again relationship, Bentley had somewhat of an epiphany about Black while on tour with George Strait in February 2005:
I remember seeing her walk on the bus, and I just knew (snaps fingers) — I just knew, 'I've gotta make this work. I don't care how busy I am. This is the one I want to be with.'
The couple married that same year, eloping together on Dec. 17 in Mexico.
The titular song of Bentley's 2007 album Long Trip Home describes one of the many cross-country trips he made to see Black before they finally got married in 2005. Speaking to The Arkansas Democrat-Gazette in 2007, Bentley revealed just how personal "Long Trip Home" was for him: "That song sums up 2005 for me. She [Cassidy] stays home and takes care of our house and two dogs; no kids, yet."
Black and Bentley have three children together. They welcomed daughter Evelyn Day Bentley — called Evie by her family — on Oct. 4, 2008. Evie became a big sister when daughter Jordan Catherine Bentley was born two years later on Christmas day. Their youngest is baby boy Knox, born Oct. 9, 2013 — Bentley's son's middle name remains a mystery. Their daughter Evie made her stage debut, singing along with her daddy in a 2012 performance of "Thinking of You" at the Ryman Auditorium in Nashville, Tennessee.
It would seem Black is perfectly content to let her country music superstar husband have all the spotlight while she's home with their three children and the dogs. As private as she may be, Black still gets to steal a little bit of that spotlight from Bentley for herself when she appears on the red carpet by his side. And with Bentley's first time co-hosting this year's ACM Awards, it'll be a special red carpet walk for Black indeed.
The 51st Annual ACM Awards will air Sunday night at 8 p.m. on CBS.