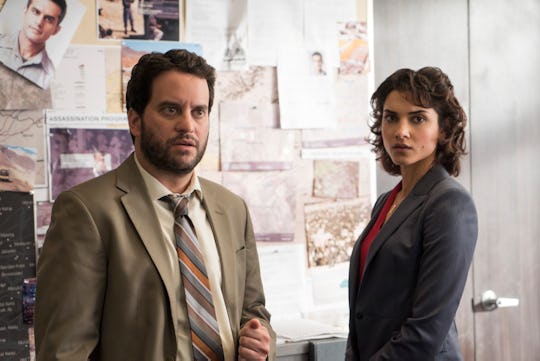 Nicole Rivelli /Netflix
Dinah Madani Is An Important Addition To 'The Punisher' Cast
In The Punisher there's a new character that even comic book fans won't recognize. So who is Dinah Madani on The Punisher? Similar to Frank Castle, aka the Punisher, she's a war veteran, but she's working for Homeland Security, which is currently Frank's enemy. When the show begins, Dinah has just returned from serving in Afghanistan, and is readjusting to being a civilian. There are also a lot of facets to Dinah's character. She's a big patriot, an Iranian immigrant, and a real American hero. Although she's proud to have served her country, like many vets, she struggles with her return to civilian life.
Jeph Loeb, who acts as producer on the show, told MoviePilot Dinah is "a different way of going from the typical cop who was chasing Frank." Loeb wants the show to be socially relevant but not preachy, giving insight to what a lot of war vets go through and how they're treated when they return to the states. "[What] The Punisher... allowed us to do is comment on a lot of things that are going on, not the least of which is the plight of America's servicemen," he said. "We show different ways that their lives are affected, but always have an eye towards being able to say, 'Thank you for your service.'"
At the start of the series, Dinah starts working at Homeland Security and is partnered with Sam Stein. Though Dinah first has a guard up with Sam, the two eventually bond over their shared belief in truth and justice. According to the same MoviePilot article, Michael Nathanson, who plays Sam, believes his character acts as a sort of spiritual guide to Dinah, while Amber Rose Revah, who plays Dinah, guarantees there will be a lot of action scenes, including some car chases.
Besides Dinah, there will also be a few other new characters, though these are familiar to comic book fans. Most notable is Micro, played by Ebon Moss-Bachrach. Micro, whose real name is David Lieberman, is a former member of the National Security Agency, but faked his death to protect his family as he attempts to uncover a conspiracy, the same one Frank is working on.
Micro will reach out to Frank and proposition that they team up since they have the same enemy. Frank, who's definitely the work alone type, isn't all that interested at first, but eventually decides maybe having a hacker on his side could be useful. Just as there are thematic parallels between Dinah and Frank's time in the military, there will be parallels between Micro and Frank's ideas on family.
Frank is very much fueled by the murders of his wife and children, whereas Micro is fueled by the hope of one day being able to return to his family, and reveal he's not dead after all. Although Micro won't be in contact with his family, they'll still play a big role in the series and it'll be interesting to see how that plays out. Hopefully, Micro and Frank will be successful in uncovering this mysterious conspiracy and Micro is able to return home.
Also making his first appearance in the Marvel Cinematic Universe is Billy Russo, played by Ben Barnes. Billy was Frank's best friend from his days in the Special Forces, but now he's the founder and CEO of the private military corporation Anvil. Unfortunately, based on the trailer, it doesn't look like there will be a happy reunion between the two friends, as it definitely seems Billy is also in on the conspiracy and is working against Frank.
You can meet all these new characters and see what kind of trouble Frank gets into when you watch The Punisher, which is now streaming on Netflix.
Check out Romper's new video series, Romper's Doula Diaries:
Watch full episodes of Romper's Doula Diaries on Facebook Watch.