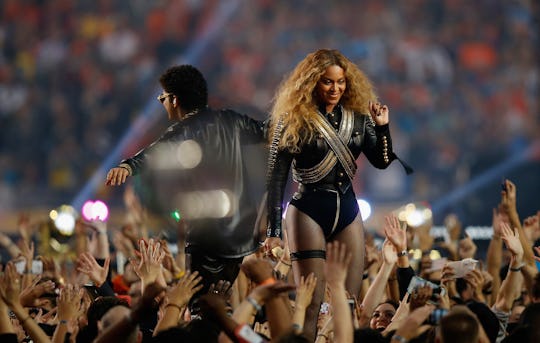 Ezra Shaw/Getty Images Sport/Getty Images
Who Is Directing Beyonce's 'Formation' Short Film? There Are Some Seriously Amazing Clues
One thing that's pretty clear about Beyoncé? She's a big fan of releasing new material with virtually no prior warning. When she dropped "Formation" (both the single and the insanely amazing video) a day before her scheduled performance at the Super Bowl, it shocked pretty much everyone in the best possible way. And before that, in 2013, she released the full-length album, Beyoncé, on iTunes with zero lead-up, promotion, or fanfare (it debuted at No. 1, because, of course). Now rumors are swirling that Queen Bey is about to surprise the world yet again — not only with a new album, but with a mini-movie (!!!). Who is directing Beyoncé's "Formation" short film? Details, of course, are scarce. But, according to Nylon, it's possible to make some educated guesses based on what Beyoncé's already released, along with some help from Beyoncé fan club The BeyHive and its very well-placed sources.
The music video Beyoncé released for "Formation" was hugely buzzworthy, inspiring countless articles, seemingly endless commentary, and even a hilariously-on point Saturday Night Live sketch. So, naturally, the director of the "Formation" video, Melina Matsoukas, seems like she'd be a pretty good choice to also direct the "Formation" short film. Not only did she totally slay with the video, but she's clearly in tight with Beyoncé and her inner circle: Matsoukas has previously directed Beyoncé and Jay Z in the video for "Run," and is also the director behind Solange Knowles' "Losing You" and Rihanna's "We Found Love." So, you know, obviously Matsoukas knows her stuff.
But, according to The BeyHive Twitter account, there could be someone else behind the film entirely. Back in March, The BeyHive posted a tweet that included some details about a project from Louisiana-based Strong Films LLC called "Project Lemonade." Apparently, they'd wrapped filming, and although The BeyHive didn't say so explicitly, it looks like "Project Lemonade" is actually Beyoncé's "Formation" film. (Or, uh, at least some kind of video related to Beyoncé?)
Four days later though, The BeyHive posted another update on Beyoncé's new album and short film, claiming that both projects were finished and ready for an April release (presumably confirming that "Project Lemonade" is the "Formation" film?).
So who, then, is behind Strong Films LLC? According to the company's website, Strong Films LLC is comprised of filmmaker Jon Strong, and brand strategist James Spradlin. Looking at their work, it appears that they specialize in — what else? — short films. And, given that New Orleans played such an important role in the "Formation" music video, it makes sense that a New Orleans-based company would be behind the making of the "Formation" short film.
Of course, until Beyoncé actually releases any new material, all of these predictions are purely speculative. But the good news is that a new Beyoncé album and a "Formation" film might arrive any minute now: according to PopSugar, it will drop at some point in April (which makes sense, since Beyoncé will kick off a world tour at the end of the month). Until then, all there is to do is wait, which I will totally do, because a new Beyoncé album and a "Formation" film? You just know that's going to be incredible.