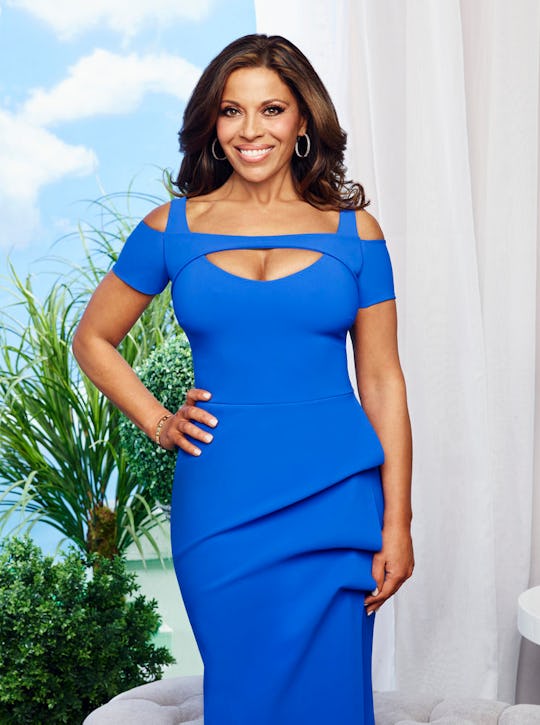 Tommy Garcia/Bravo
Who Is Dolores Catania On 'Real Housewives Of New Jersey'? She's An Old Friend
The Real Housewives of New Jersey is welcoming back some old favorites and introducing new faces in Season 7, among them Dolores Catania. While she may be new to fans, Dolores has been good friends with Teresa Giudice and Jaqueline Laurita for years now. Dolores refers to herself as the "quintessential modern day Renaissance woman" and it certainly seems to be true; in addition to raising her family, Dolores has more than one interesting career choice on her resume. But until you get to know her on the show, you're probably wondering: just who is Dolores Catania on Real Housewives of New Jersey?
A divorcée and mother of two, Dolores is also a New Jersey native through and through, so she should fit right in with all of the other women on the show. A quick look at her Bravo bio affirms that she sounds like a good addition to the show: she promises to "always brings blunt honesty to the table," as well as a sense of humor. Dolores is really a jack of all trades when it comes to careers; apparently, she has worked as a corrections officer, surgical technician, realtor, and owner of fitness centers, as well as taking part in several charities. Dolores does it all.
Dolores takes pride in her family, and seems to love being a mom to her daughter Gabrielle and son Frankie, who are twenty and seventeen respectively; her Instagram is full of pictures of her and her kids. She's been divorced from their father Frank for fifteen years, but the exes remain good friends, even going in on the ownership of some of those fitness centers together. Her maternal instinct also extends to pets; as of right now, she's living with four rescue pups.
Teresa describes her as having a "tough exterior but a really big heart" and the two go way back. Dolores has even appeared at a few RHONJ events throughout the years before making her first appearance as a Housewife. She's a supportive friend, which Teresa could probably use in the coming season with everything that's happened on and off screen. Dolores is also close pals with other new Housewife Siggy Flicker so hopefully if there's any tension Dolores will be able to bridge the gap between the new additions and the original stars.
With her connections to the other ladies and her history supporting RHONJ, the only question is how it took so long for Dolores to find her way onto the show.