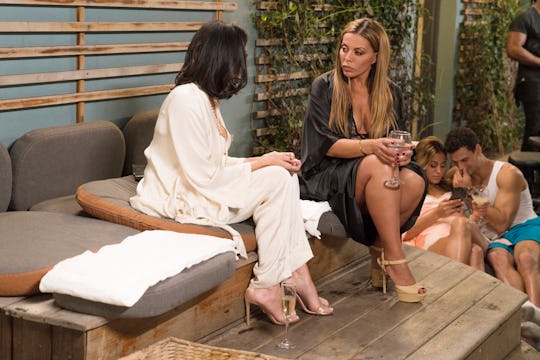 Greg Endries/Bravo
Dolores' Ex-Husband May Inspire Some Drama On 'RHONJ' Season 9
In past seasons of Bravo's The Real Housewives of New Jersey, the women have made much of Dolores Catania's unusually close friendship with her ex-husband. Though she's dating someone new, she's still on good terms with her ex and he even lives in her house. Ahead of the Nov. 7 premiere of Season 9, you might be in need of a refresher on the situation: who is Dolores Catania's ex-husband Frank?
Dolores and Frank have been divorced for 18 years, and together they have two children: 22-year-old daughter Gabrielle and 19-year-old son Frankie. Despite their long separation, they still live and work together, opening up one gym in the past few years (Dolores opened a second gym on her own, according to Bravo). In addition to wading into the field of fitness, Frank was a lawyer until he was disbarred in 2017.
According to RealityBlurb, Frank was "disbarred for the knowing misappropriation of client and escrow funds." He had been practicing since being admitted to the New Jersey bar in 1991, but can no longer practice law. There were allegedly reports from as early as 2010 that Frank moved client funds into a private business account of his. Though it hasn't been discussed on RHONJ yet, it looks like it's going to come up in Season 9.
In an exclusive clip from the premiere on Entertainment Tonight, Dolores reveals that some trouble erupts between her and Danielle Staub after Danielle mentions Frank's disbarment. She would rather the situation go undiscussed until she decides to bring it up herself. "There is, like, an unwritten law in Italian culture where you don't ask someone their personal business," Dolores says. "You don't address the pink elephant in the room. If I choose to share it, that's my choice. But of course, Danielle missed the memo on that, I guess."
Frank's professional issues might add fuel to the fire when it comes to Dolores' contentious relationship with Danielle. But there's no trouble between Dolores and Frank, who are still living together while she continues to date boyfriend David Principe. Principe is a doctor, which prevents him from appearing on the show, but he's still involved in Dolores' life behind the scenes. Bravo reported that he was even building the house that she and Frank would be moving into.
When discussing Season 9, Dolores told Bravo:
You'll get to see a lot about me and Frank as always. There's something that happens that definitely will be, 'Wow!' You'll see! [...] You''l have to stay tuned! It's not what you think, but you'll see the strength of our relationship. We will always be (in a great place). In life, things aren't always perfect.
Frank is a big part of Dolores' daily life even though they're not romantically involved anymore, so it makes sense that he'd be on RHONJ, too. Though he's been an occasional presence at Dolores' house over the last season, it seems like fans are going to get to know Frank (and everything he's been up to offscreen) even better when the new season starts.