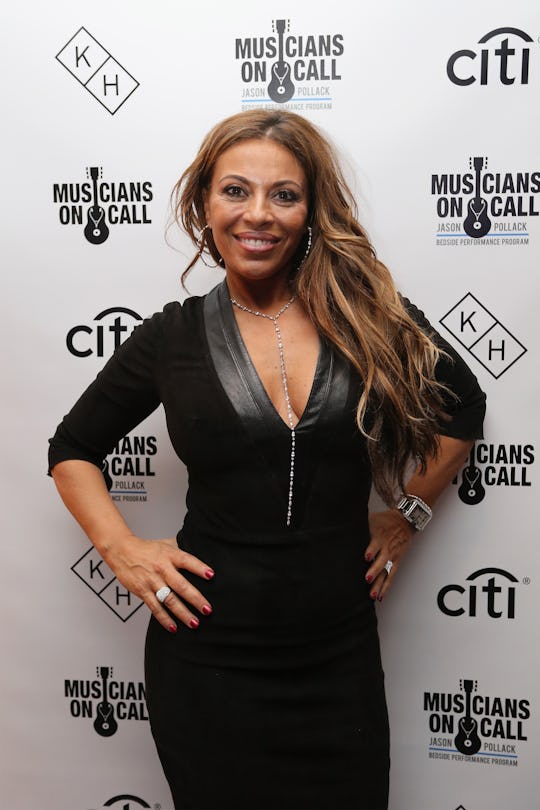 Donald Bowers/Getty Images Entertainment/Getty Images
Get To Know More About Dolores Catania's Son Frankie On 'RHONJ'
During the premiere of the Real Housewives Of New Jersey last week, fans learned that Dolores' ex-husband Frank was moving back in with her. Which of course prompted some of the women to question whether it was the best idea for her kids. So who is Dolores Catania's son Frankie anyway? Dolores has two kids, 21-year-old Gabrielle and 18-year-old Frankie.
Frankie actually just graduated from high school, but recently enrolled in an acting school in New York City. Dolores said she wasn't surprised that Frankie wanted to go into show business. She told Bravo, "Frankie used to play football for Don Bosco [high school]. It's a nationally ranked school for football and he just wasn't as big as the other players. He would come home with his lip hanging off and one day said he wanted to be an actor."
Dolores also stated that initially she didn't consider it a real option. She said of the beginning of his career:
I'm like, 'Go do your homework.' Next thing you know he had a little small part in a movie in L.A. [called A World Away]. I moved to L.A. with him for two months, and he got his first taste of acting. He's pursued it ever since. Now he's at the Michael Luggio acting school in the city.
The acting class might have just been over the summer or put on the back burner for now, since Frankie himself announced that he would be attending Sacred Heart University in Connecticut this fall. Luckily, as an actor and a model, Connecticut is close enough for him to run over to New York City for gigs if he has to. And it's always good to have a backup plan. With Dolores being so sensible, it's no wonder that her kids are, too.
Some viewers might be a little confused about Dolores' living situation at the moment. Her ex-husband Frank, who is Frankie's dad, cheated on her in the past and they split up. Now, he's moving back in with her. She was recently engaged to someone else, but broke it off because they just didn't get her friendship with her ex. She's now dating a new guy and swears that they get along on social media. Dolores explained the unconventional situation during an interview on The Huffington Post's Blogs:
Frank has been with his wonderful girlfriend for 12 years now and the relationship we have is great. If she can't go somewhere with him, she'll ask me if I'd like to attend because she completely understands it's a friendship of 2 people who will always have kids they share. His girlfriend not only accepts that there's a family but she embraces it and we all have a good dynamic — all around.
Which is a nice situation for everyone, so kudos to all of them for making it work.
Dolores has been a part of the RHONJ social circle for years, even though she just signed onto the show last season. In fact, she was supposed to be one of the main characters in the first season, but she ended up dropping out. "The way they were producing back then was not going to put me in a very good light," Dolores explained to NJ.com. "That was a parental decision for me. And they scrambled around to find someone." Enter Danielle Staub.
Anyone who's watched the show knows that Dolores' kids are a very important part of her life. Hopefully fans will get to see more of Frankie — on the big or small screen — really soon.
Watch Romper's new video series, Romper's Doula Diaries:
Check out the entire Romper's Doula Diaries series and other videos on Facebook and the Bustle app across Apple TV, Roku, and Amazon Fire TV.