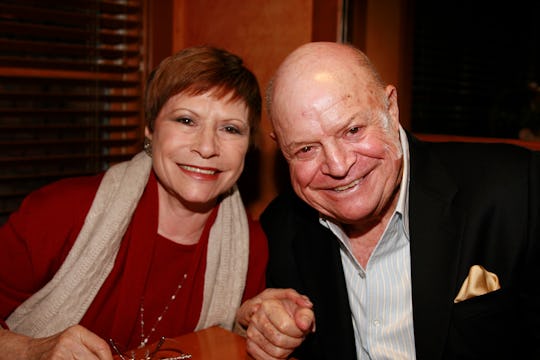 Riccardo S. Savi/Getty Images Entertainment/Getty Images
Barbara Rickles Deserves Privacy
Legendary comedian Don Rickles died Thursday morning in his Los Angeles home, with his wife by his side, according to TMZ. News of his death have many asking: Who is Don Rickles' wife? Barbara Rickles is an actor who has been married to the late comic since 1965, and she deserves privacy and positive thoughts at this time.
According to IMDb, Barbara Rickles (née Sklar) is an entertainer from Philadelphia, Pennsylvania, and has appeared in such movies as 1971's This Is Your Life and 1983's George Burns Celebrates 80 Years In Show Business, an all-star celebrity tribute to the late entertainer. Barbara and Don Rickles have raised two children, actor Mindy Rickles and Emmy Award-winning producer Larry Rickles, and have two grandchildren.
Don and Barbara Rickles's love story starts in the office of his agent. The late comedian told Milwaukee Magazine in 2016 that he and Barbara met while she was working as his motion picture agent's secretary. Don said of his wife at the time,
Barbara was very different than most of the girls I knew and I started to pursue her pretty good. Thank God she realized there's another side to me. And we've been married 51 years.
Don seemed to always have beautiful things to say about his wife during moments of vulnerability in interviews. He called Barbara "gracious and lovely" in a 1996 New York Times interview. "When I married Barbara, I married a Valium," he told the NYT reporter back then. "I'm very shy so I became very outgoing to protect my shyness. She understand that."
The couple celebrated their 52nd wedding anniversary on March 14 of this year. A few days before, the iconic insult comic tweeted, "Happy Anniversary my dear wife, Barbara. You are my life." It would be the last tweet that Don Rickles would post to his account; an outpouring of affection and sympathy was shown by social media users who replied to Don Rickles's anniversary tweet upon hearing the news of his death.
Don Rickles is survived by his wife Barbara, their daughter Mindy, and their two grandchildren. Tragedy confronted Barbara and Don Rickles six years ago when their son Larry passed away from pneumonia complications. According to Hollywood Reporter, Larry died in 2011 from respiratory failure due to pneumonia at the age of 41. Larry was best known for producing 2007's Mr. Warmth: The Don Rickles Project, an HBO documentary on his father.