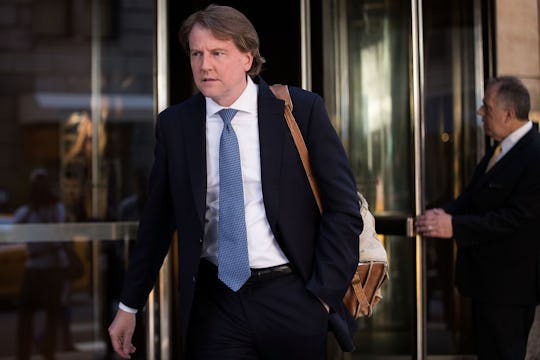 Drew Angerer/Getty Images News/Getty Images
Who Is Donald McGahn? Trump's White House Counsel Pick Has Been There Since The Campaign
A lawyer who's served as a former Federal Election Committee (FEC) chairman joined President-elect Donald Trump's Cabinet on Friday. But who is Donald McGahn, and why does Trump want him on his team? McGahn has been constant throughout Trump's campaigning as well as his transition, so a Cabinet appointment was a likely next step: McGahn's extensive legal work proves especially valuable to the President-elect's needs.
In announcing the choice, Trump noted: "Don has a brilliant legal mind, excellent character and a deep understanding of constitutional law." McGahn responded to the appointment by saying: "President-elect Trump is a bold leader committed to draining the swamp in Washington and restoring economic prosperity and security. I look forward to serving the American public in this role." Whereas Trump and McGahn may align in their boldness as well as their valuing of "economic prosperity and security," the insinuation that appointing McGahn will assist in "draining the swamp" does not compute; McGhan has been called a "Beltway insider" in the past, so his values have definitely been informed by a government-focused perspective.
A current partner at Jones Day, McGahn's career has been spent in government and political law, notably working to diminish restrictions on campaign financing. Repeatedly referred to as "one of the people most responsible for loosening regulations on campaign spending," McGahn has been professionally invested in politics for decades. What's more, he isn't the first McGahn who's represented Trump; His uncle worked for Trump in a business capacity, though "the alliance cracked in a bitter feud over money."
Newsweek notes that, while a member of the FEC, McGahn "checked the authority of the agency's staff and general counsel and used his experience as a lawyer representing clients to win rights for political committees under the FEC's jurisdiction, including those the commission is investigating," according to one of his colleagues. FEC Commissioner Ellen Weintraub, a Democrat, went so far as to assert: "He did his best to undermine the law."
As a member of the White House counsel, McGahn will be responsible for "vetting potential judicial and executive branch nominees, addressing national-security related legal questions, and setting and enforcing ethics rules," as well as "preparing executive orders issued by the president, ensuring that they are constitutional." Trump appears to have chosen McGahn for his loyalty as well as his proven ability to navigate political restrictions. In appointing McGahn for White House Counsel, it's likely that Trump is confident that this endeavor with McGahn will end a lot more positively than the one with this uncle did.