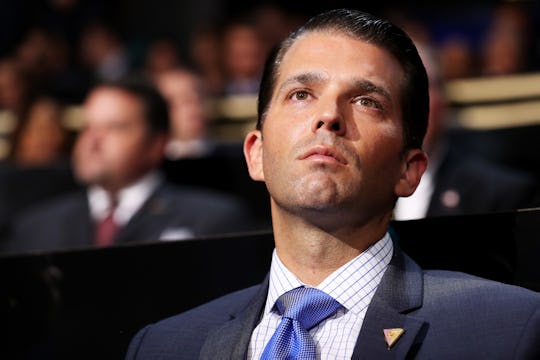 John Moore/Getty Images News/Getty Images
Who Is Donald Trump, Jr.? Trump's Eldest Son Takes The Stage Tonight At The RNC
The Republican convention kicked off on Monday with a slew of speeches, but the most highly-anticipated talks came from the people who know "The Donald" best: his family. If Melania Trump's controversial speech yesterday did not satisfy your craving for Trump family gossip, don't worry. We will still hear a lot more from the millionaire clan in the coming days. So who is Donald Trump Jr.? Trump's eldest son will take the stage tonight at the convention.
One of Trump's more vocal children, Donald Jr. takes after his dad. The 38-year-old real estate developer is an executive vice president at the Trump organization. Tonight, he will share the podium with his half sister, Tiffany, as the family tries to bring positive attention back to the campaign. Despite his celebrity upbringing, Donald Jr. has spent most of his life outside the limelight.
Of course, all that changed when The Donald entered the presidential race. Since last spring, Donald Jr. has taken on a more prominent role in his father's campaign; More recently, he made headlines after the firing of former campaign point man Corey Lewandowski. "There was nothing malicious or vicious about it," he said, speaking out for his father regarding Lewandowski's dismissal. "... [But] I think there's also time to move on. Those are the tough decisions you have to make when you're running for president."
That's not the only interesting or attention-worthy moment or tidbit about The Donald's eldest. Here are a few more surprising facts to keep in mind as he takes center stage tonight:
He Has Ties With The East
The eldest son of Donald and Ivana Trump, Donald Jr. kept close ties with his mother's family in the Czech republic. He speaks Czech fluently and, as a child, often spent his summers with his maternal grandparents in a town outside of Prague, according to the Boston Globe.
He Remembers The Hard Times
Perhaps more than any of his siblings, Donald Jr. knows the pressures that come with the family name. Donald Jr. was already a teenager when his parents went through messy divorce, splashed on the front pages of all the tabloids. Trump Sr. reportedly had an affair with the woman who would become his second wife, Georgia beauty queen Marla Maples. Donald Jr. also witnessed Trump's bankruptcy and financial struggles in the 1990's. "Sometimes being a Trump," he told The New York Times, "everyone kind of wants to see you fail."
The Donald Played Cupid
Donald Jr. was introduced to his wife by none other than his father. Trump reportedly introduced Donald Jr. to model Vanessa Haydon at a fashion show, according to The Times. Trump was so enthused about the prospect, that he re-introduced the two again at intermission. Donald Jr. and Vanessa have been married for nine years and have five children together.
He Goes To Bat For His Dad
Donald Jr. is not afraid of speaking out for his father. In fact, in recent months, he's become a centerpiece of the campaign, appearing on several radio and network interviews.
While he avoided the spotlight for many years, one thing is certain: All eyes will be on the younger Donald when he takes the stage tonight. And if things go as planned for the Trumps, we'll be seeing a lot more of him in the years to come.