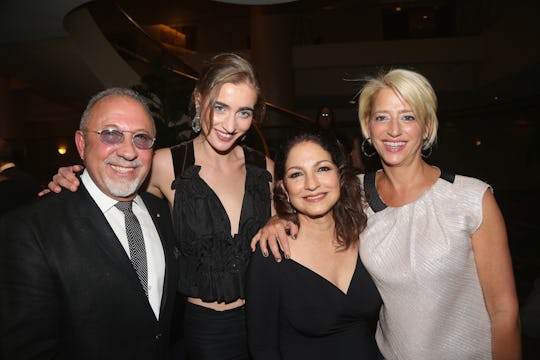 Bruce Glikas/Getty Images Entertainment/Getty Images
Who Is Dorinda Medley's Daughter On 'Real Housewives'? She's Close With Her Mom
If there's one thing you need to know about the Real Housewives of New York's Dorinda Medley, it's that she's a dedicated mom. The show has provided brief snapshots of her relationship with her daughter Hannah that prove the two women have a close, fun relationship. Hannah and her mom joke together easily, and Dorinda is always quick to assert that Hannah is her first priority. But the show doesn't focus too much on Dorinda and Hannah, which may have left viewers wondering: who is Dorinda's daughter on Real Housewives of New York?
Hannah Lynch is the daughter of Dorinda and her first husband, Ralph Lynch, an investment banker who lives in Connecticut. She's 22, an attendee of Columbia University, and she has some pretty lofty career goals. She's also very upfront about her support for Dorinda and her Housewives endeavors. Hannah told Bravo's The Daily Dish, "I love being with my mom. She's my best friend. Some people took our interaction last season as me being disrespectful, and it's not that. It's just that we're so close that there is nothing I can't say to her. And we're best friends, so we really have a good time."
Hannah's definitely got her own stuff going on, so here are some things you should know about Dorinda's daughter.
She Could Be A Model
A quick scroll through Hannah's Instagram makes it clear that modeling could've been an obvious career for her, going by her looks and killer style. She chose to focus on other things, but despite dropping modeling dreams, it's obvious Hannah is still a total fashionista.
She Wants To Be A Writer
Instead of modeling, Hannah has made writing her goal, particularly short, funny non-fiction. "I'm trying to be a writer. I'm an essayist," Hannah said. "It's very Nora Ephron-y, David Sedaris. But I've realized I've experienced a lot in my life, and I've grown up in an environment, especially with my mom, that I've seen a lot of things, I've experienced a lot of things, I have one hell of a voice."
She Was Very Close To Richard Medley
Viewers have seen Dorinda struggle to come to terms with her grief over the death of her second husband Richard Medley, and that is something Hannah has struggled with as well. She had a great relationship with her late stepfather. It might have been that closeness that made it hard for her to connect to her mom's new boyfriend.
She Hasn't Always Been A Big Fan Of Dorinda's Boyfriend John
Dorinda has spoken about how she keeps her mom life separate from her dating life even though she and John have been together for years now. On RHONY, Dorinda said that Hannah and John "don't have" and "haven't built" a relationship, which hurts her, though she can understand it. Still, Hannah is supportive of her mom's relationship, asserting that she thinks John is great and that her mother just worries too much.
She's In A Relationship
There's not a lot of info about them out there, but if Instagram pictures are anything to go by — they're one cute couple.