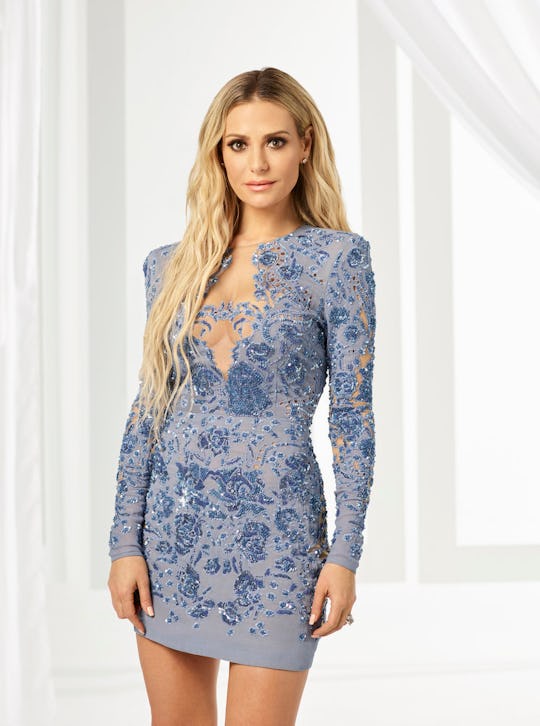 Richie Knapp/Bravo
Who Is Dorit Kemsley? The New 'Real Housewives Of Beverly Hills' Star Has Got Connections
Real Housewives of Beverly Hills is returning to Bravo for a seventh season on Tuesday, Dec. 6th and it's bringing with it a high-profile newcomer to the Housewives franchise. Teased in previews as "the one with the giant staff," Dorit Kemsley is a married, working mom of two with philanthropic interests to boot. So who is the new Real Housewives of Beverly Hills star Dorit Kemsley? She seems poised to hold her own amongst the ladies.
Together with her British husband, Paul "PK" Kemsley, Dorit helps run their talent management agency Nixxi Entertainment, which juggles some super impressive clients. Among them is Boy George, who is not only represented by her husband, but he also lives with the couple in their Beverly Hills home, and plays the role of godfather to Dorit's infant daughter, Phoenix. Paul also manages Pelé, the Brazillian soccer star who is widely regarded as being the greatest player of all time.
Paul and Dorit moved to Beverly Hills in 2015, just two months after getting married at the Rainbow Room. The pair had been living in New York, where they met after Dorit had settled there, following some time spent abroad. In addition to Phoenix, they have a two-year-old son named — what else — Jagger. And if you're wondering whether all of Dorit's ties to Britain means she already has a pre-existing relationship with Lisa Vanderpump, then you would be correct. She's going into the show as a friend of Lisa's, who, for the record, worries about whether she'll click with the other ladies.
Before diving into talent management with her husband, Dorit worked in the fashion industry, landing a job at a global swimwear line based in Italy after college. Eventually, she used the skills she learned there to launch her own eponymous Italian resort and swimwear line, which she still owns. Her charitable cause of choice is preventing children's injuries, working with the non-profit Safe Kids. She, of course, cites this busy life as her justification for a staff of at least eight.
"Currently, my staff includes Peggy, who's baby nurse, Neila, Jagger's main nanny, and then I've got a few nannies for Jagger and Phoenix — to fill in — three full-time housekeepers, and Tiffany, who's my husband's assistant," she reveals on the show. "For those who will criticize me for having a big staff, I'm not exactly lounging in bed eating bonbons."
Even if sitting in a chair having your hair done and your lashes put on by professionals while coordinating your international travel schedule is necessary for your work culture, does it really feel that far off from bonbon-land? Viewers may get their answer soon enough once they see Dorit in action. Tune into RHOBH Season 7 to see if she's just slightly more down to earth that her sneak peek implies.