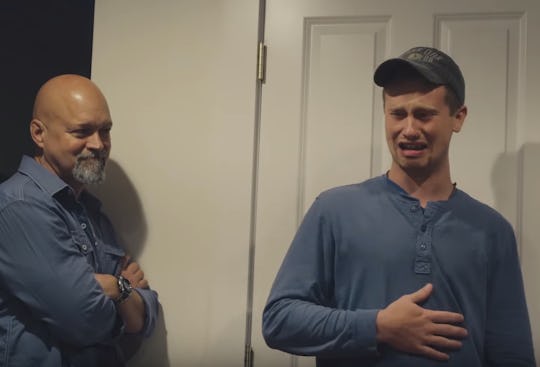 Netflix/Youtube
With 'Recovery Boys' Dr. Kevin Blankenship Is Changing The Face Of Addiction
There are a ton of negative stereotypes and stigmas attached to opioid addiction, but Netflix's new documentary Recovery Boys brings a humanizing perspective to the nationwide epidemic. It follows the journey of four men as they recover from addiction at Dr. Kevin Blankenship's residential substance abuse center, Jacob's Ladder. The rehab facility is not what you would expect, which makes you wonder, who is Dr. Kevin Blankenship, and how did his unconventional recovery center come to be?
From military man to medical professional, Blankenship started out as the son of a coal miner in a small town in West Virginia, as noted on his Jacob's Ladder biography. After serving in the United States Army, Blankenship pursued a career in medicine and became a board certified emergency physician, after completing his emergency medicine residency at West Virginia University. After years of working throughout the state, it was a family addiction crisis that inspired Blankenship to become a recovery specialist and go on to found Jacob's Ladder.
But rather than confining his vision of recovery to a cold, uninviting atmosphere, Blankenship created Jacob's Ladder as farm-rehab program, incorporating music, art, meditation, yoga, and farming into the healing process. The center's Brookside Farm, located Aurora, West Virginia, is a full working farm, with own livery barn, ice house, and dairy barn.
In a 2016 interview with WBOY, Blankenship revealed that Jacob's Ladder was inspired by his own son Jacob's addiction struggles, and that with this farm-rehab therapy he hoped to remove the stigma of addiction while creating a "paradigm shift in the recovery world." He noted how the stigma of addiction pushes families to hide addiction struggles, and added that "the time for ignoring it or pretending it's not here is over."
With Jacob's Ladder as a backdrop, Emmy Award-winning director, Elaine McMillion Sheldon made Recovery Boys in order to give the world a real, inside view into the effects of the opioid crisis and its casualties. Sheldon's website describes the documentary as a look inside the lives of four men attempting to "reinvent their lives and mend broken relationships after years of drug abuse." The description adds, "In today's world, where shocking statistics about the opioid crisis make headlines daily, Recovery Boys gives a deeply personal look into the unseen lives of those working toward transformation."
In Sheldon's description, Recovery Boys is "an intimate look at the strength, brotherhood, and courage that it takes to overcome addiction and lays bare the internal conflict of recovery." It follows four recovering addicts, Jeff, Ryan, Rush, and Adam, who come to Jacob's Ladder for treatment and therapy. The four men work to break the cycle of addiction that has lasted for generations, and to let go of their painful pasts in order to build new futures for themselves. Of course, it's never easy, and the documentary also looks at the men's struggle to find a new place in an "unforgiving society."
In an interview with WSAZ 3, Blankenship praised Sheldon's documentary for depicting a different side of addiction. "The beauty of what Elaine has done has certainly... it is a depressing and tough story to tell," said Blankenship. "But she does it in such a wonderful, beautiful human way that not only tells these guys' story but the story of our state and community." He also expressed how he believed that the documentary would help de-stigmatize people's view of the epidemic, by bringing relatable human stories to the discussion.
Opioid addiction and recovery is a hard concept for some to relate to, but I hope that through documentaries like Recovery Boys and inspiring physicians like Dr. Blankenship, people can find a more human way to understand this ongoing epidemic.