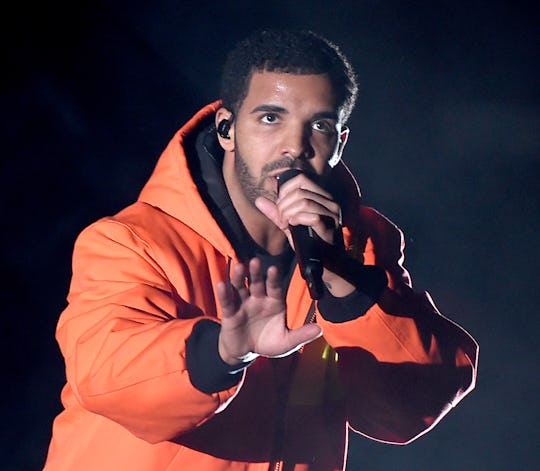 Kevin Winter/Getty Images Entertainment/Getty Images
Who Is Drake Dating? He's Reportedly Been Getting Cozy With His Ex
Drake can't seem to stop adding fuel to the romantic rumors surrounding him. The Toronto native is currently busy promoting his latest album, Views, which has sold more than 1 million copies since it was released a little more than a week ago. Views is an intimate, detailed peek into the rapper's love life so, naturally, fans are curious about his current relationship status. And you can't blame them. The self-proclaimed "polite" rapper is talented, good-looking, funny (Seriously, did you see his SNL episode?), and writes some sensitive, soulful songs. So, who is Drake dating now? Officially, Drake is single but the reality may be a bit more complicated.
There is ample evidence that the artist has been romancing frequent collaborator (and ex) Rihanna. The two have been the subject of relationship rumors after fans witnessed a couple steamy performances this past month. On Thursday, People quoted a source who said that the hip hop duo have been secretly dating "for months"—so take that with a grain of salt.
Drake and Rihanna were allegedly caught making out after the Barbadian beauty's concert in Toronto this February. They were "all over town—acting like boyfriend and girlfriend," a source told MediaTakeout.
The longtime friends have definitely been closer lately, performing together during Rihanna's Anti concert tour. On Wednesday, the duo showed off their legendary chemistry when Drake joined Rihanna on stage during her Los Angeles concert. During the pair's hit song "Work," Rihanna brought her alleged beau out to rap and for a sultry dance break.
In a video posted by an audience member, Rihanna pulls Drake close as the rapper smiles and wraps his arms around the singer for a hug. The crowd, of course, freaks out at this tiny display of affection between the two stars. This wasn't the first time the pair acted out some PDA in concert either; Drake has been popping up at Rihanna concerts everywhere it seems, including in Toronto and Miami.
After the L.A. show, Drake and Rihanna hit up Hollywood hot spot The Nice Guy where they were "dancing all night together," according to onlookers. "They were being very affectionate."
In February, Rihanna told Ellen DeGeneres she's "single right now," but People's source claimed that was just a smokescreen to throw fans off the couple's track. "They have been keeping it a secret this time around," said the source. "They want to do it right and keep their relationship private."
The pair reportedly dated in 2009 but have remained close while releasing music together (remember "What's My Name?"). Drake even opened up about his working relationship with his frequent writing partner during an hour-long interview on Beats 1 Radio last week. "We do well together as a team," the rapper told host Zane Lowe on April 29.
Their chemistry is certainly sizzling; Drake cited it as the source of both of their collaborative successes. "I think we do great music together," he said. "It's tough to do guy-girl collabs. I think [the chemistry] is what makes the records better though."
It isn't just an act either, Drake said — their connection is 100 percent real. "We're not forcing some story on people," he said. "A lot of the music that we make and the energy that we bring is genuine. We have a lot of genuine energy between us."
Even if they aren't dating, with chemistry like theirs, there will always be dating rumors circling Drake and Rihanna. Fans of the rumored couple will simply have to sit back and wait for them to 'fess up.