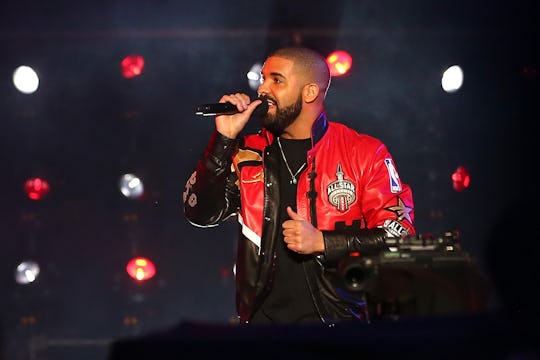 Elsa/Getty Images Sport/Getty Images
Who Is Drake's 'Child's Play' About? It Paints A Less-Than-Flattering Portrait
Canadian teen soap actor turned rapper Drake dropped his latest album, Views, on Thursday, and though it wasn't as dramatic a release as Lemonade, people are still talking. Fan have a lot of questions, like who is Drake's "Child's Play" about (that is, besides the Cheesecake Factory)? "Child's Play" is pretty vulgar and there's lots of talk about sex. But it also gets into Drake's past relationships and even briefly mentions his mother.
While the chorus is devoted exclusively to sex-related antics, the body of the song is slightly less crass. It opens with the assertion that any woman who's attended a season opener basketball game procured her tickets through sexual favors (I'm really dressing up the language here). Did Drake have a sitcom moment where he asked a woman on a date, she told him that she had plans, and then he ran into her that night at a basketball game? Is he jealous of basketball players? Surely he knows that some women are sports fans, and have their own money. Who hurt you, Drake?
Drake never names the woman in question, but he's had rumored links with many up-and-coming models. After chastising an unnamed woman for arguing with him at a Cheesecake Factory, he then complains that she borrowed his car to... well, let's let Drake explain it: "You wildin', you super childish, you go to CVS for Kotex/In my Bugatti, I took the key and tried to hide it." I'm sorry, Drake, are you mad that she got her period? That she took your car? Were you offering to make a CVS run for her? That seems like a pretty weird way to offer.
Drake then expounds upon his generosity, rapping about how he'll "take you to the mall and get you a new outfit" and the fact that he's known to "give Chanel out like a hug," but it sounds as though his generosity may be conditional, as he repeatedly warns his paramour, "Don't make me give you back to the hood." What could have been a track about how he's happy to share his wealth comes off sounding, unfortunately, more than a little transactional. The lyrics site Genius draws a parallel to his song "Energy," which contains the lines, "I bought this one a purse, I bought this one a truck/I bought this one a house, I bought this one a mall/I keep buyin' shit, just make sure you keep track of it all." Here's a thought: maybe don't? Go ahead and buy someone a new purse and the occasional plate of pot stickers if you can afford it, but keeping score doesn't bode well for a relationship.
Drake closes the track by name-checking his mother, saying that "Momma is a saint, yes she raised me real good/All because of her I don't do you like I should." I'm not sure what he thinks the woman in question deserves, but I'm glad that he took at least a little of Ms. Graham's wisdom to heart. Since he's not currently linked to anyone (save from the occasional Rihanna rumor, and we all know this isn't about her), it's probably safe to say that Drake is eating his cheesecake alone these days, and from the looks of these lyrics, he and Ms. X are both better off without each other.