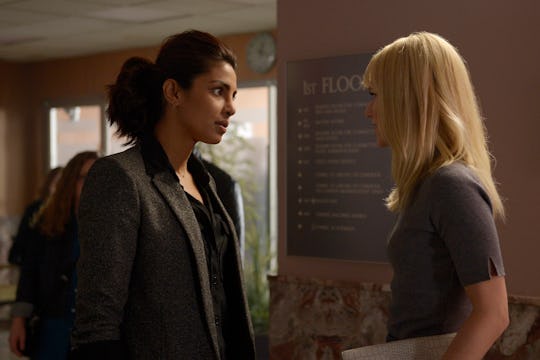 Phillippe Bosse/ABC
Who Is Duncan Howell On 'Quantico'? Alex's Hacktivist Friend Might Have Had The Answer
In the spring premiere of Quantico, Alex dealt with a similar situation she had at the beginning of the series: no one believed what she was saying. At the top of Season 1, no one believed she was innocent in the Grand Central bombing. Now, no one believes that there is another terrorist out there besides Elias Harper, who died in the winter finale. But, Alex wasn't alone in thinking that there was a second bomb during the winter finale. (Spoilers for Quantico's March 6 episode.) With the help of Duncan Howell, Alex's hacktivist friend on Quantico, she learned that there was a second bomb — and possibly a second terrorist.
The spring premiere opens a few months into the future, after the FBI command center was blown up days after the Grand Central bombing. Slowly, the agents are trying to return to their lives, but not until the command center bombing case can be closed. Alex is essentially the hold up in the case, since she is the only one to believe that there is a second bomber at work. And she's not wrong. Before the winter finale, Alex enlisted the help of Duncan Howell and Mia — two hacktivists — to help her find out who was framing her. And while they managed to learn that, they also figured out that the terrorist wasn't stopping with the Grand Central bombing.
Fast forward to now, and Alex receives the news that Duncan Howell killed himself. We, as viewers, saw the scene in which Duncan pleaded with the police to tell Alex that he "thought he didn't have a choice" before jumping to his death into the water below him.
In case you don't remember who this guy was, don't worry. There are a lot of moving parts in this show and Duncan Howell didn't seem like one until now. Duncan — and Mia — are two hackers who are apart of the hacktivist group The Unknown (think the TV version of Anonymous). They helped Alex broadcast her innocence early on in the season and discovered there was another bomb planned at the command center via Elias Harper.
Duncan's suicide — which is not being investigated — raises a lot of questions. First, it seems as if he was led into killing himself. He comments that he didn't have another choice. Another choice for what? Did he learn something that put him in grave danger and the only way he could get away from it was to take his own life? Personally, I think that he might have learned who the second bomber was and felt so threatened that he decided this was his only answer.
Alex considers a similar situation — that someone must have gotten to him. But, as Ryan points out, Duncan was facing seven to 10 years of jail time for his crimes as a hacker, which could have also led to his suicide. It's the logical answer, since no one believes there is a second bomber to threaten Duncan.
But, as the final moments show, there is another terrorist. And, judging by the video footage of Duncan's suicide, this person very much had a hand in his death. Now, Alex just has to figure out what Duncan knew that lead him to kill himself, before the second terrorist gets to her or those she loves.