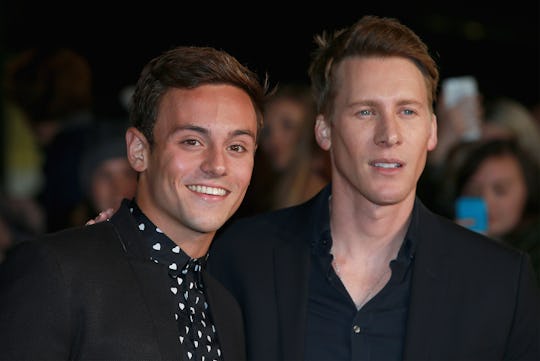 Chris Jackson/Getty Images Entertainment/Getty Images
Who Is Dustin Lance Black? Perhaps Sam Smith Should Have Googled Him Before The Oscars
Oops? It was an unfortunate blight on what was otherwise a huge night for singer Sam Smith: in his acceptance speech for his Oscar win for Best Song, Smith incorrectly referenced a quote by Sir Ian McKellan, saying no openly gay man had ever won an Oscar. McKellan, in fact, had been referring only to the Best Actor category — there have indeed been a number of openly gay men who have won Oscars before Sam Smith did. But one person who was definitely not pleased with Smith's comment? Screenwriter Dustin Lance Black, who abruptly corrected him in a tweet following the ceremony. Who is Dustin Lance Black? Black is a 41-year-old American screenwriter — and openly gay man — who himself won an Oscar in 2009 for Best Original Screenplay, according to The Guardian.
But Black wasn't only peeved that Smith seemed to be completely oblivious to his win. He also called Smith out for not knowing who he was, despite reportedly having sent texts to his fiancé, British Olympic diver Tom Daley. In his tweet, Black posted a video of his moving Oscars acceptance speech, in which he spoke about the importance of his film, Milk, and about the difficulty he faced growing up in a conservative Mormon household as someone who was gay. Although he said his family was incredibly supportive, he encouraged other LGBTQ youth who feel like they aren't accepted to remember their worth.
Another thing Sam Smith might not be aware of, at least judging by Black's totally shade-filled tweet, is that he and Daley have been engaged since last October, according to People. Daley made headlines regarding his own sexual orientation after posting a video on YouTube in 2013 where he opened up about being gay.
But, drama with Dustin Lance Black and Tom Daley aside, Sam Smith's Oscar gaffe wasn't really as cringeworthy as it seems. After all, he did say that he'd heard McKellen's quote and wasn't sure if it was accurate or not, and that either way, he still wanted to speak up for LGBT rights (which is admirable no matter what the context).
He also did try to explain himself after he was informed of his embarrassing mistake, clarifying, according to The Mirror:
Either way it is important that we shine a light on what is going on in the LGBT community as it's not right. I feel like tonight was about diversity in all situations.
For the record though, neither Smith nor Black were the only openly-LGBTQ individuals to ever win Oscars: as Entertainment Weekly noted, directors Bill Condon and Alan Ball, musicians Melissa Etheridge and Elton John, and composer Stephen Sondheim have all taken home Academy Awards.