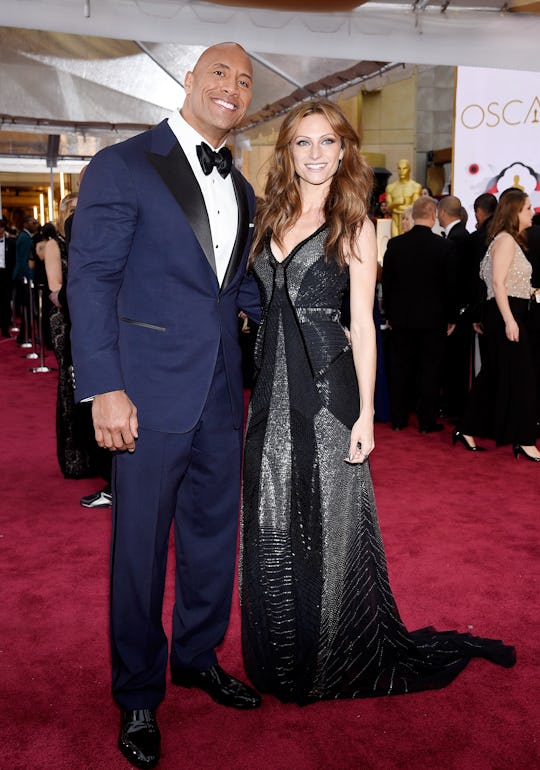 Kevork Djansezian/Getty Images Entertainment/Getty Images
Who Is Dwayne Johnson's Girlfriend? Lauren Hashian Stays Under The Radar
Dwayne "The Rock" Johnson will be co-hosting the MTV Movie Awards with his partner in crime, Kevin Hart, on Sunday, April 10. Personally, I can't wait to see what crazy antics the upcoming Central Intelligence costars get into together on Sunday. I also can't wait to see if Dwayne Johnson's longtime girlfriend will join him at the awards show and walk the carpet alongside him. But who is Dwayne Johnson's girlfriend? Despite their lengthy relationship, you might not have heard of her.
Johnson and Hashian have been together for the almost 10 years — which is very long in Hollywood — but they keep their relationship pretty private, only showing a few pics together on their social media accounts. You have to respect the happy couple for keeping their relationship out of the limelight for the most part, since a lot of celebrities oversaturate their social media with relationships that don't even last. Despite their less-than-in-your-face take on their relationship, it's clear that their love for each other only grows with each passing day. If you haven't heard of Lauren before here's a few things you should know about the gorgeous woman Johnson has been with for almost a decade.
Her Dad Is A Rock Star
Hashian grew up in Lynnwood, Massachusetts where her father, John "Sib" Hashian, was the drummer for the classic rock band Boston. He replaced the original drummer, Jim Masedea, back in 1975 and rocked with them until the early '80s.
Lauren Is Also Musically Talented
Following in her father's musical footsteps, Hashian is a singer-songwriter. You can find most of her songs on her Soundcloud account and you may have seen her on the 2005 competition show, R U That Girl, which was hosted by TLC's Chili and T-Boz. Hashian was a finalist but unfortunately didn't win. She did, however, co-write the song, "Only You," for hip-hop artist YaBoi Shad.
They Met On Set
The couple met on the set of The Game Plan, but they didn't actually start dating until a year later.
Lauren Stays Out Of The Spotlight
In the almost 10 years that Hashian and Johnson have been together, Hashian has only appeared on a few red carpets alongside him. Although she's super supportive of her boyfriend on social media, even posting a picture of herself and their beautiful daughter, Jasmine Johnson, watching Johnson at Wrestle Mania, Hashian keeps out of the spotlight.