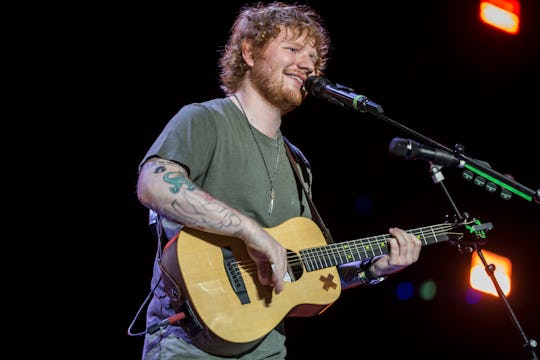 Glenn Hunt/Getty Images
Who Is Ed Sheeran Dating? He & Cherry Seaborn Have Quite A History Together
Ed Sheeran, the Grammy nominee, superstar, heartbreaker, and soulful singer of "Thinking Out Loud" broke up with his girlfriend Athina Andrelos back in March 2015. So what has been going on in his love life since then? More importantly, who is Ed Sheeran dating?
About six months after his breakup with Andrelos, Sheeran was seen out and about with Brit Cherry Seaborn. But are the two dating now? A source recently told E! News that the rumors were true and that she was without a doubt "his chick." Over Labor Day weekend 2015, the outlet claimed that Sheeran was reportedly overheard telling his friends about Seaborn, and it was clear then that he had strong feelings for her. To make things even more interesting, the couple was seen in Las Vegas hanging out with Taylor Swift's boyfriend, Calvin Harris, and a few other friends. They even documented the trip on Instagram for us all to drool over.
According to Mirror UK, Seaborn and Sheeran knew each other long before they became romantically involved, and go all the way back to their school days at Thomas Mills High School in Suffolk, England. (Nothing like a reunion to bring up old feelings, right?) Other Cherry Seaborn and Ed Sheeran sightings include a trip they took to New York City last September and a New York Mets baseball game they caught in Queens.
As for what's new in 2016? Sheeran's been off the radar. He took a long break from his phone and social media, he went on tour, and now he's busy back in the studio working on his third album. He's going to need the support of Cherry Seaborn and everyone else around him if he's going to give Adele a run for her money at the Grammy's. In an interview with Billboard, he admitted that he wasn't sure if he "was brave enough to go up against her." 25 was a record-breaking album, so for him to even suggest that his next release is worthy of being compared to Adele's he must think it's pretty good.
Sheeran and Seaborn have stayed out of the limelight since they first began dating. That can be taken as a good or a bad sign — Sheeran is known for being fickle and lovelorn. Speaking about his songwriting career in an interview with Billboard last October, the singer/songwriter sounded a bit pessimistic about good things lasting (which could bode ill for his love life). "I don't know if it's going to last forever," he said, discussing his meteoric rise and the success of his studio albums in recent years. Taking a step toward the positive, he added, "I know this third record will be better than anything I've ever done. I might fall off on this fourth record, who knows? But I'm positive this will be the real big one."
As for his relationship with Seaborn? Maybe that's the real thing, too.