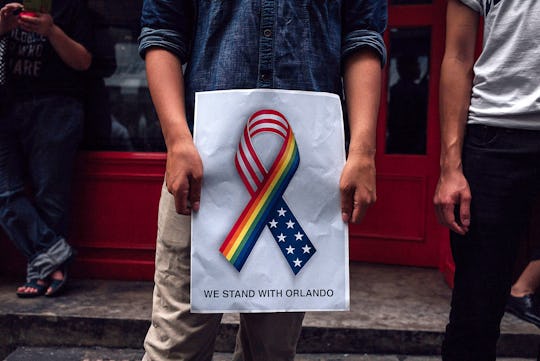 Anthony Kwan/Getty Images News/Getty Images
Who Is Eddie Jamoldroy Justice? The Orlando Shooting Victim Texted His Mom Before He Died
It's every parent's worst nightmare: just after 2 a.m. Sunday, Mina Justice received a text message from her son, Eddie Jamoldroy Justice, telling her that he was trapped inside Pulse, a gay nightclub in Orlando, where a lone gunman had begun firing shots, killing at least 49 people and injuring at least 50 more. Now, the messages he sent his mother before he was shot dead provide a chilling and unbelievably heartbreaking account of what happened during what has become the worst mass shooting in U.S. history. Who is Eddie Jamoldroy Justice? Mina Justice spoke to reporters about her son while awaiting news about his condition, according to the Associated Press, and shared the gut-wrenching text conversation she had with her son after the shooting began.
At 2:06 a.m., Eddie wrote, "Mommy I love you." He then wrote, "In club they shooting."
Mina tried to call her son, but he didn't pick up — likely because he was hiding in an attempt to save his own life. Instead, he wrote back to his mother, and said, "Trapp in bathroom," followed by "Pulse. Downtown. Call police."
She called 911, trying to get help for her son, and all the other innocent people trapped inside the club, when her son messaged her again, 33 minutes after he first sent her a text message, Eddie told his mother to tell the 911 operator that he was hiding in the bathroom, before writing, "he's coming. I'm gonna die."
Sadly, things only got worse for Eddie. According to the Washington Post, he and his mother continued to text while he waited for help, but at 2:49 a.m., he wrote, "he's in the bathroom with us." He then texted, "he's a terror," and answered "yes," when Mina asked "is the man in the bathroom [with] you?" It was the last message her son would ever send her.
Mina and Eddie's family and friends held out hope that he was alive, but late Sunday night authorities confirmed that he'd been killed in the shooting.
Thirty-year-old Eddie was an accountant who lived in downtown Orlando, "in a sky house, like the Jeffersons," his mother told the Associated Press. She described him as "a homebody who liked to eat and work out," and as someone who "liked to make everybody laugh."
After news of Eddie's heartbreaking story spread through social media, many expressed hope that somehow his story would have a happy ending. When his death was eventually confirmed, a number of tweets suggested that his death felt like a particularly hard blow:
While there's nothing that can make the loss of Eddie any less devastating for his friends and family, it's clear that his story, and the conversation he had with his mom, resonated with people around the world, whose hearts are now breaking along with them. Moving forward, hopefully Eddie will be remembered when discussing gun safety, and why it's so crucial that these types of violent events stop happening.