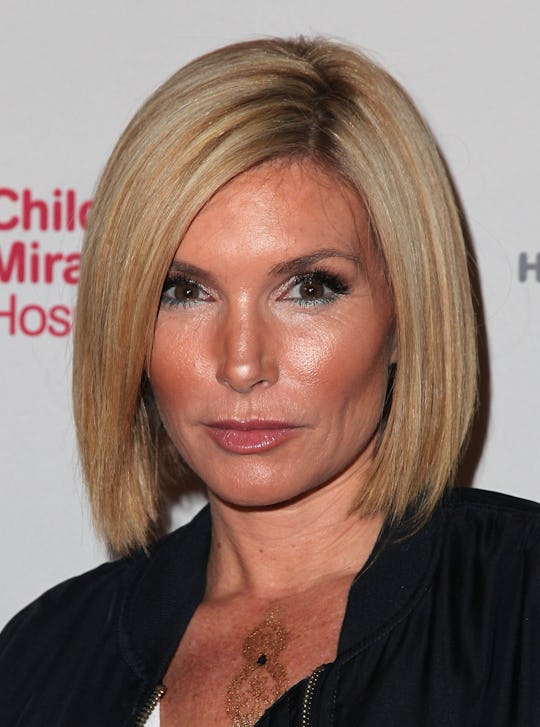 David Buchan/Getty
Who Is Eden Sassoon? 'The Real Housewives Of Beverly Hills' Are Making A New Friend
As any dedicated fan of The Real Housewives like myself knows, the 'Wives themselves are only ever part of the equation. Their lives are filled with lots of peripheral characters like husbands, boyfriends, children, and friends, who often become stars themselves. So who is Eden Sassoon? It looks as though The Real Housewives of Beverly Hills cast are making another new friend, one who looks like she'll fit right in with all the madness going on.
After the departure of Kathryn Edwards and Yolanda Foster, The Real Housewives of Beverly Hills has welcomed (if that's the right word) newbie Dorit Kemsley to their cast of bejeweled ladies who lunch as a main cast member, and she has already attracted attention for her bizarre faux-British accent and the fact that she lives with Boy George, which is charming. Eden, however, will join as a "friend," who will only participate in the drama occasionally. Though if her shade game is good enough, we could possibly see her as a main cast member soon. In the meantime, let's figure out everything we possibly can about this lady before she possibly enters our living rooms for good. Will she be a force for good or for evil? Now that our hard-partying contingent Brandi and Kim have left the show, will Eden be able to pick up the slack?
Her Dad Is Vidal Sassoon
Editor's Note: The Instagram post has since been deleted.
If you thought her last name sounded familiar, yep, she's the daughter of the world-renowned hairdresser Vidal Sassoon, and she's even gone into the family business. She owns her own salon called EDEN by Eden Sassoon in Los Angeles.
She's Sober
So she won't be carrying the slightly unhinged torch left by Brandi and Kim, but perhaps now we'll have a voice of reason at some of those Housewife events that carry on into the wee hours of the night. All kidding aside, though, this is a major accomplishment and she should be saluted.
She Has A Pilates Studio
Her hair salon isn't her only business; she is also something of a fitness fiend, and owns two pilates studios called Eden Sassoon Pilates. Her website states: "I designed my Pilates studio to be a source of health, wellness and happiness and am delighted to share it with such an empowering community. Come experience Pilates the Sassoon way."
She Has A Nonprofit
Her nonprofit organization Beauty Gives Back works toward uniting the beauty industry towards the common goal of ending the global water crisis. "Eden Sassoon, daughter of legendary Vidal Sassoon, has led the charge in building a team of the most elite and sought after hairdressers in the world to raise funds for The Thirst Project through educational events devoted to furthering the craft of hairdressing," the organization's website states. I can only add that I hope Eden and her army of hairdressers are successful.
She's A Supportive Friend
We've already learned that Eden loves to be active and give back, and that even extends to her friends, like lending her support for Lisa Vanderpump's favorite cause, Vanderpump Dogs.
Suffice to say, she certainly has a lot on her plate already, which could explain why isn't a main star on the series (yet). But given how successful she already is at so many things, I have no doubt she'll fit right in with these ladies and become an unforgettable member of their friend group.