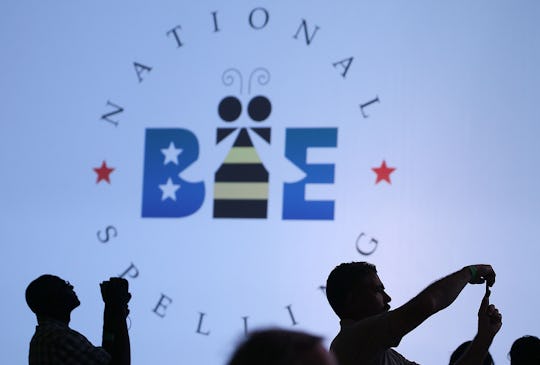 Mark Wilson/Getty Images News/Getty Images
Edith Fuller Is The Youngest Scripps Contestant Ever
The 90th Annual Scripps National Spelling Bee is underway in Washington, D.C., as 291 children, tweens, and teens compete in round after round to wordsmith their way to a $40,000 grand prize. For one junior speller, her entry into the Scripps National Spelling Bee is especially historic, and not just because the famous competition has been going strong for 90 years: Who is Edith Fuller? At just 6 years old, she's the youngest Scripps National Spelling Bee contestant... ever. Even more impressively, she earned that honor when she qualified for the national competition in March, when she was only 5 years old.
There is no minimum age to qualify for regional spelling bees associated with Scripps; if you can spell and you're under the age of 15 — the only age rule from Scripps — you can enter the competition. Fuller qualified for the National Spelling Bee during the Green County Regional Spelling Bee in Tulsa, Oklahoma.
Fuller's winning word was "jnana," a Sanskrit word meaning "knowledge." Pretty fitting for her pint-sized penchant for obscure words. Other such apropos words from Fuller's winning word list included mesmerize, as well as some truly tricky words like philately, Weimaraner, and Eocene (which mean stamp collecting, a breed of dog, and a prehistoric era, respectively, just in case you were wondering).
According to her speller profile, Fuller is the oldest of four children. This was her first time competing in spelling bees and it looks like her first year is off to a great start. According to the Scripp's blog, Fuller's favorite words are "refrigerator" and "escalator," but she admitted she's not entirely sure how to spell the latter. Fuller seems to have a strategy that works well for her: she asks for both the word origin and its definition. Her fledgling politeness and just the hint of an Oklahoma drawl certainly make her whole entire approach to spelling that much more adorable. Seriously, I cannot handle this cuteness.
Fuller's dad Justin has been posting some of his daughter's National Spelling Bee adventures to Twitter since they arrived in D.C., and by the looks of it, this spellbinding 6-year-old is having an absolute blast. On Tuesday, Fuller competed in the vocabulary test required of all spellers before the on-stage spelling bee competition begins. However, she's going to have a long time to wait for her turn at the microphone: She's National Spelling Bee speller number 290, out of a field of 291 spellers.
The youngest person to win the Scripps National Spelling Bee was last year's Nihar Janga. At 11 years old, he and 13-year-old Jairam Hathwar tied for first place for the third consecutive year. As a result, Scripps has introduced new tie-breaker rules for this year's competition. Whether Fuller breaks two records — youngest contestant and youngest winner — remains to be seen.
The Scripps National Spelling Bee airs on ESPN all day Wednesday with the preliminaries, and the primetime finals will air at 8:30 p.m. ET on Thursday.