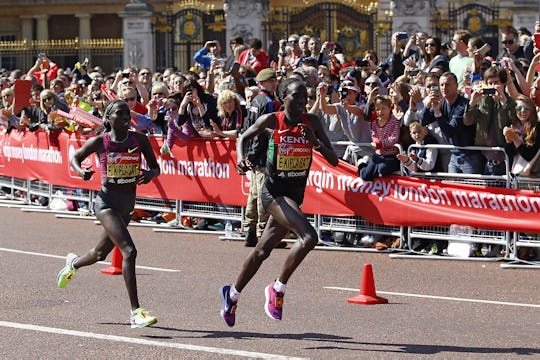 Miles Willis/Getty Images Sport/Getty Images
Kenyan Edna Kiplagat Wins Boston Marathon Women's Race
The 2017 Boston Marathon ended in a victory for Edna Kiplagat, an elite marathoner from Kenya. Kiplagat is a world champion with an impressive resume of victories to her credit. But for those outside the running world, her name may not sound so familiar. So who is Edna Kiplagat? The champion runner finished the famed marathon in just 2 hours, 21 minutes, 52 seconds, according to USA Today.
What might be even more impressive is that Kiplagat managed the clear victory in what would be her debut run in Boston. A Runners' World report detailed the strategy that helped the first-timer take the extremely competitive title. For much of the 26.2 mile race, Kiplagat kept pace with a cluster of four other leading runners. Then, she took command of the race with a surprising break out at around mile 20. Kiplagat breezed ahead of her competitors around Boston's Newton Hills, opening an impressive lead that allowed her to claim the road for herself for the final six miles of the race. Kiplagat beat her nearest competitors, Rose Chelimo of Bahrain and Jordan Hasay of Oregon, by more than a full minute according to CBS Boston.
To put Kiplagat's latest victory into perspective, the record for the fastest Boston Marathon finish by any woman is held by Buzunesh Deba of Ethiopia, who won the women's division in 2014 for her time of 2 hours, 19 minutes, 59 seconds.
Kiplagat told the local CBS affiliate that to prepare for Boston's hilly route, she put extra emphasis on strength workouts during her training. Kiplagat called the time the fastest she's had in any race so far, adding that afterward, she felt "extremely great":
When we were at 30 kilometers, I said, let me try if I can break away from the group. My body was really feeling good, and I was so happy.
Taking the top spot at the 121st Boston Marathon is undoubtedly a huge achievement for Kiplagat, but her victory Monday adds to an already stunning list of wins. The decorated Iten, Kenya native holds two gold medals as IAAF World Champion in 2011 and 2013. She came in second at the 2016 Chicago Marathon and won both the 2007 New York City and 2013 London marathons.
Kiplagat, who is a policewoman in Kenya, will claim a cash prize of $150,000 for taking home the highly coveted title, according to Runner's World.
All in all, a pretty good day, to say the least.