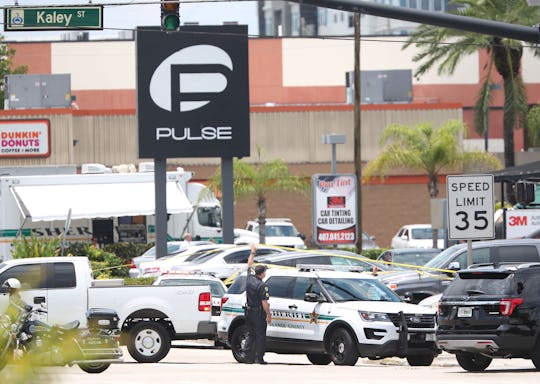 GREGG NEWTON/AFP/Getty Images
Who is Edward Sotomayor Jr.? The Orlando Shooting Victim Is 1 of 4 Names Listed By Police
Fifty people are dead and 53 more are wounded after a gunman opened fire in a popular LGBT Orlando club in the early morning hours on Sunday. Authorities are calling the shooting an act of terror. As police continue investigating the incident, the City of Orlando has begun releasing the names of victims who lost their lives in the deadliest mass shooting in American history. So far, only four names have been listed but as officials notify families, more will be publicly announced. One of the confirmed Orlando shooting victims was Edward Sotomeyer Jr., about whom very little is known so far.
(Update: The FBI has updated the death toll to 49 victims. The shooter was also killed.)
The City of Orlando is in the process of notifying loved ones of the 50 individuals killed in the tragic gay nightclub shooting in Orlando. In response to the shooting, the city set up a webpage where the names of those who lost their lives will be posted once they are able to be released publicly. According to Mayor Buddy Dyer, the page, cityoforlando.net/victims, "will be updated […] after the next of kin is notified."
Anyone who may know a possible victim or is worried about a loved one in the wake of the shooting can call a hotline, set up by the city, at 407-246-4357.
Although investigators are still working on Pulse as an active crime scene, Mayor Dyer tweeted to assure the public that "law enforcement is working the scene as efficiently and diligently as possible while being respectful to the remains of the deceased."
Currently, we know very little about the lives of the four men listed on the website but, as tributes pour in, more details are emerging.
Edward Sotomayor, nicknamed Top Hat Eddie according to one Twitter user, was a manager at a large gay travel agency.
Barrel 87, a gay bar in Sarasota, Florida frequented by the 30-year-old, posted a tribute to him on their Facebook page. "You will be missed," it read alongside a picture of him. "An angel watching over us now. May you Rest is peace Eddie! Love from your Sarasota Family."
Stanley Almodovar III is a pharmacy technician in Clermont, FL. According to his Instagram, he is from Springfield, Massachusetts. A Facebook remembrance page has already been set up for him with people leaving messages of grief and condolences to his loved ones.
There is even less information about the two other victims of the Sunday morning shooting, Luis Omar Ocasio-Capo and Juan Ramon Guerrero (although the man on the right in the above picture is reportedly Ocasio-Capo).
We may never know anything more about these four men who lost their lives other than the fact that they all, presumably, began the evening thinking they would have a fun night out at popular Orlando hotspot Pulse. Unfortunately, one individual's hate ruined those plans and cut their lives tragically short.
This post will be updated as more information is released.