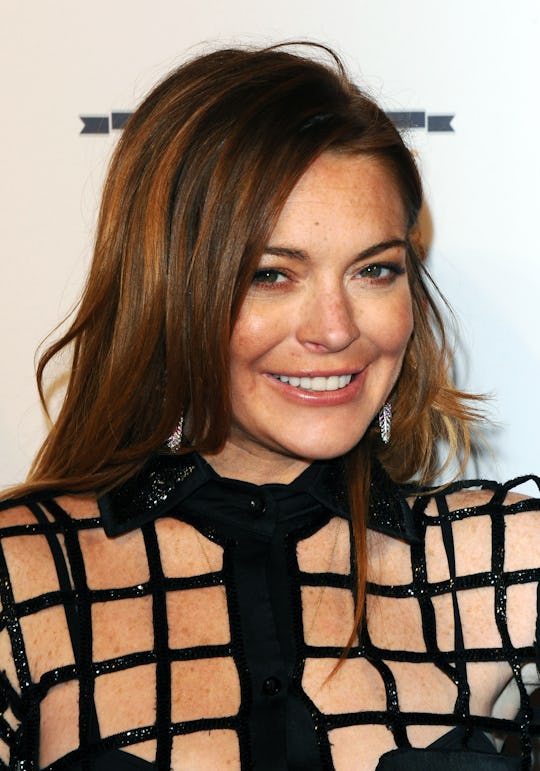 Stuart C. Wilson/Getty Images Entertainment/Getty Images
Who Is Egor Tarabasov? Lindsay Lohan's Rumored Fiance Is Laying Low
Although her reps deny it, word on the street is that Lindsay Lohan is engaged – she's been spotted flaunting a huge emerald and diamond ring around New York City lately. True, Lohan's been known to wear rings on her left ring finger before, but, coupled with the fact that she's been regularly posting pics of her boyfriend on Instagram, documenting their vacations and the fact that they moved in together, it's looking pretty suspicious. So who is Lindsay Lohan's alleged fiancé, Egor Tarabasov? The dude's kind of a mystery.
Us Weekly reported that its sources confirmed Lohan's engagement to the 22-year-old Russian man, and her parents have both expressed their approval of the relationship. Tarabasov is a London resident, like Lohan, and is the son of Dmitry Tarabasov, "a wealthy man who owns a construction firm and a couple of stores similar to Home Depot in the Moscow region," a source told Page Six. The only place to find anything on Tarabasov seems to be Lohan's Instagram account, though. His own account is set to private, and he has shockingly little web presence.
But the biggest mystery surrounding Tarabasov is his job. He's listed as the director of Home House Estates (I'd love to meet the person who came up with that name), a London real estate agency that specializes in "residential property for sales, lettings and investment in the capital's best addresses and postcodes," according to its LinkedIn profile. But, start digging, and it becomes harder to find info on the company. Its website is broken, its social media accounts were all abandoned in 2015 or earlier, and according to The Daily Beast, its phone number is out of service.
It seems that Tarabasov's clients have been voicing some concerns about the company's communications issues as well. A Google review posted in January says that Home House Estates "[h]ave not responded to various communication since 5/12/2015 in regards to multiple issues," and a review on LinkedIn claims that the company "has changed it's numbers and emails and have been avoiding contact pending investigation." It's unclear exactly what is going on.
If Tarabasov is engaged to Lohan, he might want to get used to being in the spotlight, because dating — or being married to — a celeb will usually land you there (even though celebrities do deserve some measure of privacy). If they are engaged and everyone is happy, then it seems congratulations are in order, too!