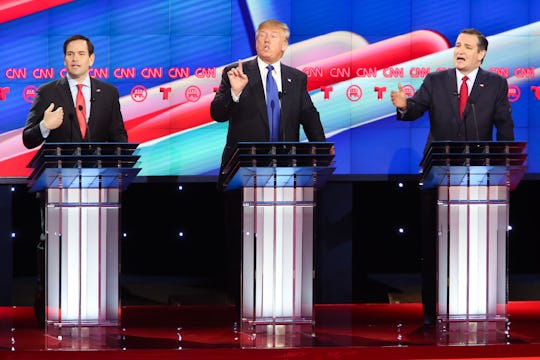 Pool/Getty Images News/Getty Images
Who Is Eligible To Vote On Super Tuesday? The States Have Varying Rules
It's almost time for Super Tuesday: a day of primaries and caucuses that has the potential to significantly alter the prospects of every presidential candidate. As candidates scramble to do last-minute interviews and debates, voters across the country preparep to vote in one of the country's most complicated and entertaining primaries. Who is eligible to vote on Super Tuesday? The rules depend on the state.
Twelve states vote on Super Tuesday in both the Democratic and Republican races, according to the BBC. Though the Republican party plans to host events in American Samoa, Colorado, Guam, North Dakota, and Wyoming, no votes will be associated with those events; instead, delegates will be assigned by the party later in those areas.
Alabama, Georgia, Tennessee, Texas, Vermont, and Virginia hold open primaries, according to Ballotpedia. This means that voters in these states can decide which primary to vote in regardless of party affiliation. Arkansas and Oklahoma both have closed primaries. Arkansas voters choose to participate in a party primary or to vote in nonpartisan races, but the secretary of state's website indicates that each individual can only choose one if those two.
Oklahoma hosts closed primaries, so Democrats can only participate in the Democratic primary and Republicans can only vote in the Republican primary, the Oklahoma State Election Board reported. The parties get to decide whether independents are allowed to participate; though the Republican party bars them from voting, independents can participate in Democratic primaries in 2016 and 2017. Massachusetts holds a mixed primary, Ballotpedia reported. The last day citizens of Massachusetts could change party enrollment was Feb. 10, according to the website for the Secretary of the Commonwealth of Massachusetts.
In addition to the primaries, several caucuses take place on Super Tuesday. For the GOP, Alaska hosts a closed caucus and Minnesota hosts an open caucus, according to Ballotpedia. On the Democratic side, Minnesota and the U.S. territory of American Samoa hold open caucuses, while Colorado hosts a closed caucus. Democrats who are out of the country also vote on Super Tuesday, the BBC reported.
The outcome of Super Tuesday voting is important to presidential candidates looking to score delegates, but it doesn't necessarily end campaigns. Even if he didn't win a state, Florida Sen. Marco Rubio could still get the Republican nomination, according to The New York Times. It's also likely that Vermont Sen. Bernie Sanders and Ohio Gov. John Kasich will stay in the race regardless of the Super Tuesday results, the BBC reported. Whether Donald Trump and former Secretary of State Hillary Clinton keep their momentum in Super Tuesday states or the other candidates skyrocket to surprising success, it'll certainly be fun to watch.