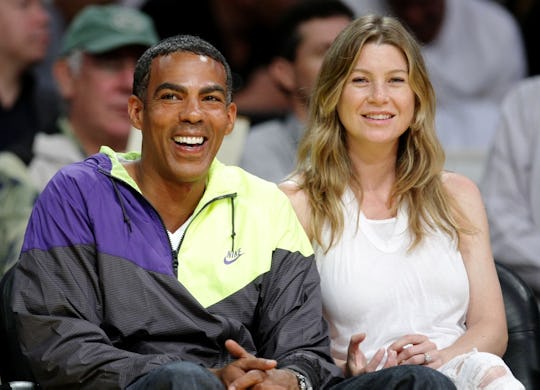 Noel Vasquez/Getty Images Entertainment/Getty Images
Ellen Pompeo & Chris Ivery Have An Adorable Family
News that Grey's Anatomy star Ellen Pompeo had welcomed a third child into her family went public after two photos were released this week, one captured by the paparazzi and the other posted to the actress's Instagram page soon after. In both, little Eli Christopher is snuggled in his father's arms. The pictures of the baby boy have the actress' fans getting reacquainted with who Ellen Pompeo's husband is and reminding them of how adorable the couple and their family really are.
Chris Ivery is a music producer and the father of three young children with Pompeo, Stella Luna, 7, and Sienna May, 2.
Pompeo and Ivery married in 2007 after meeting in a Lost Angeles grocery store about four years before. They didn't begin dating, though, until about six months after they met, when "one night she just looked different to me," as Ivery told People. New York City Mayor Michael Bloomberg served as a witness at the ceremony, and the connection centers around Ivery, who grew up in Boston. Bloomberg hails from Bedford, Massachusetts.
Together, the couple welcomed Stella in 2009 and Sienna via surrogate in 2014. And although the couple opted to keep their younger daughter's birth a secret for two months in order to protect the privacy of their surrogate, they're absolutely not shy about giving the world glimpses into the children's lives — such as this one of Ivery and Sienna as a newborn:
The Daily Mail snagged the first paparazzi photos of little Eli when Pompeo, Ivery, one of their daughters, and the newborn headed out for a hike in Los Feliz, California, on Wednesday. In the photos that the site later published, 49-year-old Ivery is toting the baby in a wearable carrier. Soon after, Pompeo's representative confirmed to Us Weekly that he is, indeed, the newest addition to the family, joining sisters Stella and Sienna.
On Thursday, Pompeo shared a photo of a smiling Eli nestled on Ivery's chest."Eli Christopher," the caption reads, surrounded by heart emojis. "Chris Ivery just fell a notch... I've got a new guy."
Pompeo recently filled in E! News about how she manages balancing her personal and professional lives:
You know, I have my days where I feel really guilty that I've been here every day if I have to work a lot. But the truth is I'm in a very blessed situation; I am so lucky. First of all, I am so lucky to live in a country where a girl like me can make this kind of living, achieve her dreams and reach her goals.
She and Ivery certainly have achieved the dream of having a beautiful and thriving family. Congrats!