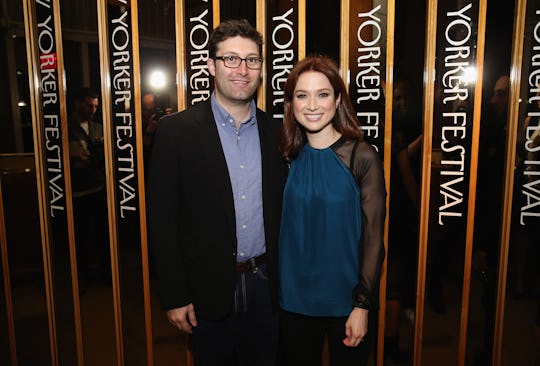 Neilson Barnard/Getty Images Entertainment/Getty Images
Who Is Ellie Kemper's Husband? Michael Koman Is One Seriously Funny Guy
It has been a fantastic week for actress Ellie Kemper. The Unbreakable Kimmy Schmidt star is preparing for the Season 2 debut of her hilarious Netflix show, which airs this Friday, and announced during a taping of The Tonight Show Starring Jimmy Fallon on Wednesday that she was pregnant. It's the first child for Kemper and her growing family — but who is Ellie Kemper's husband, the excited father-to-be?
As it turns out, his name is Michael Koman, and he is a man behind a lot of your favorite hilarious television shows, which is really fitting, considering Kemper is one of the funniest people on television. Koman and Kemper dated for a few years, before getting married in 2012.
"Michael is a delight, as you know, so of course my parents like him a lot," Kemper told late night talk show host Conan O'Brien in 2011. How would O'Brien know that Michael is a delight? Koman, a writer, actually worked for Conan O'Brien in addition to his long list of television credits.
Koman has written and produced quite a few TV shows. In addition to his work on Late Night with Conan O'Brien, Koman has written for The Colbert Report, Eagleheart, and MadTV, which are huge accomplishments. Perhaps one of his biggest and most impressive accomplishments is his work on Comedy Central's Nathan For You (one of my personal favorite TV shows).
Koman is a co-creator and writer for the show, which stars comedian Nathan Fielder as he uses his business degree to come up with new ways for real-life small businesses to turn a profit. Koman was a writer one of the most famous episodes, "Dumb Starbucks", where Fielder turned a real, struggling coffee shop into a coffee shop named "Dumb Starbucks." (Yes, that really did happen.) Most recently, Koman wrote for Triumph's Election Special 2016, where Triumph the Insult Comic Dog made his way to various primary states and debates, and tried to chase down the 2016 primary candidates.
Aside from writing one of the funniest TV episodes ever, Koman has managed to earn himself plenty of official accolades. In 2007, Koman won an Emmy Award for Outstanding Writing in a Variety Series for his work on Late Night with Conan O'Brien.
On top of it all, Koman has one seriously funny Twitter account — which he manages himself, by the way. His tweets are quirky, a little awkward, and all too hilarious (perfect for someone married to Ellie Kemper, of course).
With an undeniably funny mother and just as funny father, I can only imagine that Kemper and Koman's baby might the next big comedian in the next 20 years.