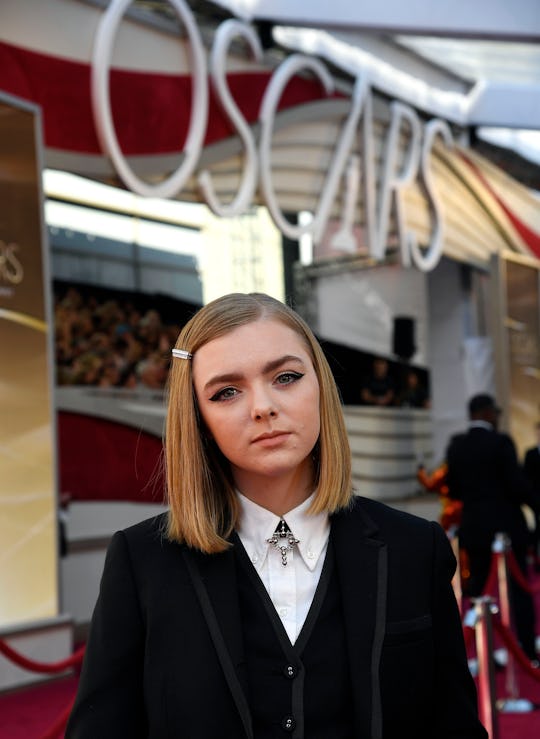 Kevork Djansezian/Getty Images Entertainment/Getty Images
Meet Elsie Fisher, The 15-Year-Old Actress Who Took The Oscars Red Carpet By Storm
With the biggest night in film fully underway, talk on the red carpet at the 91st Academy Awards was definitely focused on one newcomer. And if you're wondering who Elsie Fisher is, be prepared to be wowed by the accomplished 15-year-old star of Eighth Grade who Twitter couldn't stop talking about.
Fisher looked absolutely amazing in her sleek tuxedo jacket and pantsuit on Sunday night, so it's no surprise people took notice. At the this year's Academy Awards, Fisher — who is already an established actor; she started acting when she was 5 five, according to INSIDER — presented an award, according to Variety. Though many would argue that she was snubbed for her breakout role as awkward pre-teen Kayla Day in 2018's Eighth Grade, she still got to be a part of the big night and take the stage.
As for Fisher's thoughts on the night, she told Variety that she was very happy to even be invited to the Academy Awards. "I may not be nominated here. But I am presenting which is very cool also," she told the publication. "To be able to take Eighth Grade from Sundance last year to here now is very special."
Fisher wasn't the only one who thought it was "very cool" that she was in attendance at the 2019 Oscars; many people on Twitter couldn't get enough of her red carpet debut on Sunday.
"I want to be Elsie Fisher when I grow up," one person tweeted.
"Elsie Fisher did NOT come to play," another accurately stated.
Yet another tweeted, "My style icon for the entire awards season is BAMF Elsie Fisher. 10/10. If she wants more sauce she can have mine."
Not only is Fisher as cool as she looked on the red carpet, she's also super relatable, too. For instance, the actress is a huge fan of french fries, has her own Dungeons & Dragons podcast, according to Seventeen, and she loves spending her time on Instagram. Fisher might be a celebrity, but at the end of the day, she's just a 15-year-old girl who loves fries and social media like the rest of us.
It's highly likely this won't be the last time Fisher walks the red carpet at the Academy Awards. She still has so many years in her career ahead of her. In fact, Fisher told The Hollywood Reporter that she wouldn't mind starring in a superhero or mainstream movie because they seem like "really fun projects to work on." And she is ready to take on any role that comes her way next. "That is a broad answer, but if you asked me a year ago if I wanted to play a 13-year-old with anxiety or told me that that was going to be my favorite role ever, I would have said 'You are insane,'" she told The Hollywood Reporter.
But Fisher is in no rush to grow up; she is still in school (she's currently homeschooled, according to Just Jared), after all. Although this year's awards show season won't last forever, Fisher will definitely be an actress to watch out for because she's only just getting started.