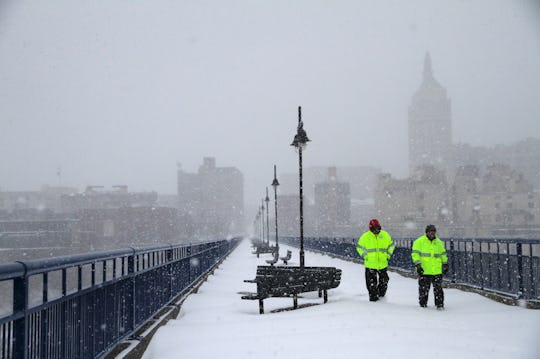 Who Is Emanuel Lutchman? The Rochester Man Allegedly Planned To Attack A Local Bar On New Year's Eve
According to NBC News, the FBI has arrested a 25-year-old New York man for planning to commit a terrorist attack in Rochester, New York, on New Year's Eve. Emanuel Lutchman is charged with providing material support to ISIL, according to NBC News. Who is Emanuel Lutchman? The Rochester native might have ties to ISIS.
The FBI has been investigating Lutchman for some time and learned that he was in communication with an ISIS member located overseas, according to the International Business Times. Lutchman, a Muslim convert, told an ISIS member that he hated America and wished to emigrate to Syria to join the group, according to the IB Times. The overseas contact encouraged Lutchman to prove his allegiance to ISIL by killing American "kuffar," or infidels, according to the U.S. Department of Justice complaint filed on Wednesday.
Lutchman was allegedly also in contact with three other individuals whom he believed to be his accomplices but who were actually working with the FBI. Lutchman and one of the FBI informants selected a Rochester restaurant and bar that he planned to attack on New Year's Eve, and purchased a machete, ski masks, zip ties, and other items to be used in the attack, according to NBC. He also had the informant record a cell phone video of him swearing allegiance to ISIS and taking responsibility for the intended attack shortly before his arrest, according to the IB Times.
Lutchman allegedly told the FBI informants that he could use pressure cooker bombs and knives in the attack in Rochester. The plan was meant to impress ISIS, according to NBC:
[T]hat's what my plan, that's on my mind, that's all I been thinking about. 'Cause I'm getting amped up, to accept the fact that's what I gotta do.
Specifically, the FBI alleges that Lutchman told its informants that he planned to sneak a bomb into a bar or club on New Year's Eve and then kidnap people and kill them, according to NBC. He allegedly said he would take a life for the group: "I don't have a problem with that," he said, according to NBC.
Lutchman reportedly has a history of criminal and mental health problems, according to NBC. He was convicted of robbery in New York in 2006 and served approximately five years in prison. He also has multiple "mental hygiene arrests" on his record, according to the IB Times. Lutchman was also charged with attempting to provide material to support a terrorist group, which The Washington Times reported carries a maximum fine of $250,000 and up to 20 years in prison.
Image: Guy Solimano/Getty Images News