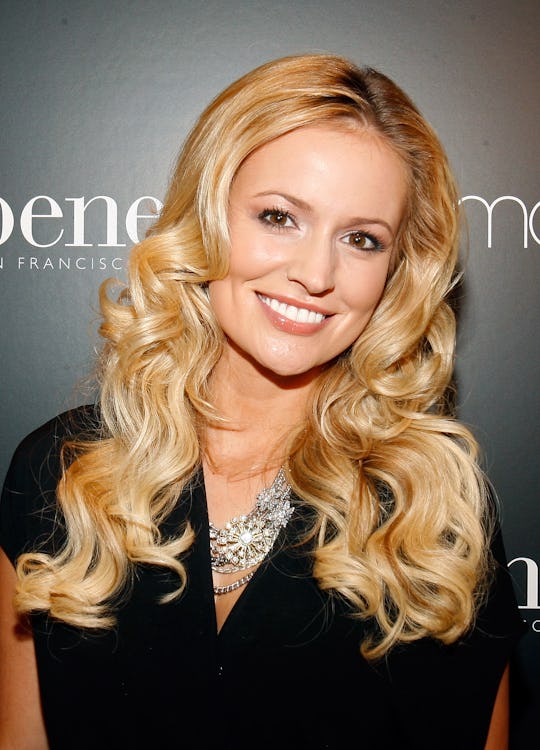 Mike Lawrie/Getty Images Entertainment/Getty Images
Who Is Emily Maynard Johnson's Husband? The 'Bachelor' Contestant Is Pregnant Again
Former Bachelor and Bachelorette contestant Emily Maynard Johnson shared the news on People on Tuesday: she and her husband are expecting again! You may be familiar with Emily Maynard Johnson from her two runs at love on public television, where her time on The Bachelor ended with an engagement to Brad Womack, followed by an engagement to Jef Holm when her season of The Bachelorette ended. While those relationships didn't last, she married hometown sweetheart Tyler Johnson in 2014, and the two are now expecting a new addition to their family of four. So who is Emily Maynard's husband?
Tyler Johnson is the very good-looking man who eventually married the world's favorite Bachelorette. He seems to avoid the public eye — his Instagram is private (yes, I poked around), and while he has a public Twitter account, he doesn't seem to use it very often. However, some sleuthing turned up that he is a Charlotte, North Carolina boy, and — at least at the tail end of 2014 — he worked for Hendrick Luxury Group, an automobile sales company. In the past, Maynard wrote on her blog that she and Johnson met before she even joined the Bachelor family, since Maynard and Johnson attended the same church, Forest Hill:
I used to teach a jewelry making class at a middle school that my church adopted and Tyler was one of the coordinators of the program. Well, every Thursday I could count on him to come help me carry all of my beads out to my car at the end of class. The only problem was he was so good looking that I could barely make eye contact with him, much less have a normal conversation.
Maynard also captioned one adorable Instagram picture: "Who knew me and the hot guy from church would be installing car seats together one day?" She's also provided plenty of proof that he's a family-focused guy, and even joked that her daughter from a previous relationship, Ricki, loves Johnson more than she likes her own mother.
When proposing to Maynard, Johnson actually included Ricki in the engagement as well, giving her a ring of her own. "He proposed to me at home and gave both Ricki and me rings," Maynard told Us Weekly. "It was so sweet!"
Are they not the cutest family ever? In her blog post for People announcing her third pregnancy, Maynard wrote,
When this baby gets here, Jennings will be about 15 months old and even though I'm sure he'll have no clue what's going on, I feel a little guilty just because he didn't get to be the baby for very long! Ricki is just so excited because now she gets to move into the playroom, which happens to be the biggest room in the house.
It seems like the whole family is just as excited as Maynard — and her troupe of Bachelor fans — is.