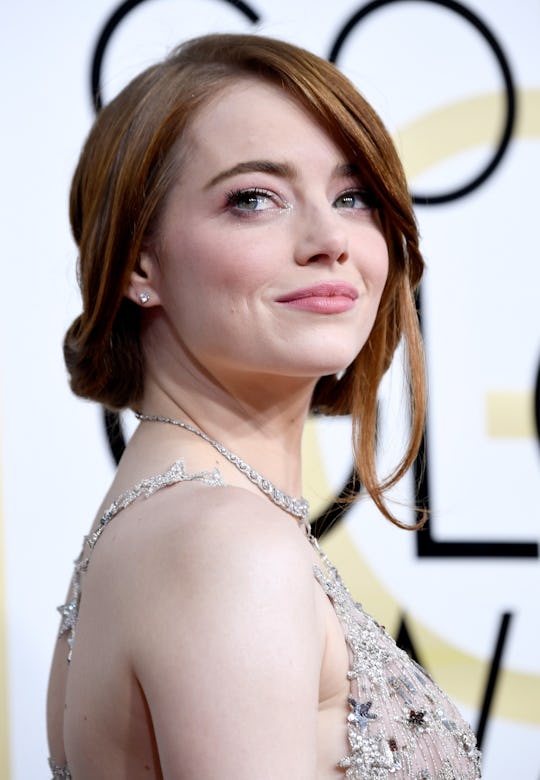 Frazer Harrison/Getty Images Entertainment/Getty Images
Everyone Should Know Emma Stone's Brother, FYI
Perhaps the only thing more important than who will win at the 2017 Golden Globe Awards is who accompanies the nominees to the 2017 Golden Globe Awards. The men and women on the arms of each and every celebrity are (more often than not) close friends, spouses or partners, and sometimes family members. So, it was no surprise that viewers were asking themselves, "Who is Emma Stone's Brother?" After all, the La La Land lead actress brought her brother along to walk the red carpet with her; pushing him in the spotlight one tux-flashing, glasses-wearing camera shot at a time.
Stone's younger brother is Spencer Stone, best known for his stunt double work in Divergent (although, you can also catch his brilliance in the very-scary movie V/H/S/2 and the always-hilarious-if-not-slightly-ridiculous Sharknado). While not as well-known as his older sister, Spencer is no slouch when it comes to acting, as well as writing. In 2015 Stone's younger brother wrote her spoof acceptance speech for the 'Hot and Funny' Guy's Choice Award (yes, apparently that is a thing), essentially making the role of "always annoying little brother" somehow endearing and semi-charming. If Stone doesn't win a Golden Globe for her work in La La Land, someone should at least acknowledge how much work she probably put into getting on that stage for an award like that, in the first place.
In case you were wondering, Stone's younger brother is 26 years old, something Ryan Seacrest (who interviewed the sibling pair on the red carpet) apparently already knew but needed to be confirmed. Although, since Seacrest has been not so great at rising to the #AskHerMore occasion, at least Spencer can say he wasn't asked about who he was wearing, right?
If you're looking to catch some of Spencer's stunt double work in the future, you can see him in action (letting someone else take the credit for his action) in the upcoming film Telelios. Set to release in March in Japan, the film centers around a space rescue (so at least you'll get to see the bearded hunk sans gravity, right?).
Of course, the internet didn't miss "bring your sibling to the red carpet" day, so many Stone fans had a few things to say about Emma's younger brother. Here are just a few of the reactions, via Twitter:
This isn't the first year Emma has brought her younger brother to the Golden Globe Awards, either. He was her date to the 2015 Golden Globe Awards, too. So, if there's anything to look forward in this ominous future, it's that we'll probably be seeing Spencer Stone in 2018, too.