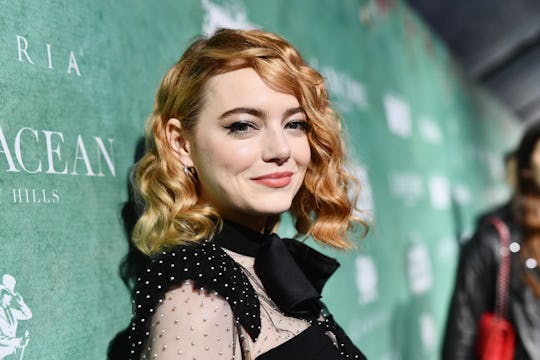 Emma McIntyre/Getty Images Entertainment/Getty Images
Emma Stone Brought Her Fav Date To The Oscars, & We Love Her More Than Ever
Whether she's a nominee, a presenter, or just hanging out in the audience, Emma Stone is known for bringing some pretty interesting plus-ones to awards shows, and on Sunday night, fans were eager to see whose arm she'd show up on. Those who take a romantic interest were tuning to in to see who Emma Stone's date was at the 2018 Oscars. And as it turns out, she brought her brother, Spencer Stone, this year, as she's done on several occasions.
For the Golden Globes earlier this year, she brought tennis legend Billie Jean King, whom she portrayed in Battle of the Sexes, according to People, but she's brought Spencer to numerous awards shows over the years. He was also her date to the 2012 and 2017 Oscars, and she's taken him to several Golden Globes shows, the Screen Actors Guild Awards, and the Critics Choice Awards, according to E! Online. The siblings awards show game is absolutely charming; when Emma won the "Hot and Funny" category at the 2012 Spike Guys' Choice Awards, she read a speech prepared by her brother, according to In Style. "I am neither hot nor funny," she told the crowd. "Spencer Stone is the coolest. He is fly as hell and he could have a professional rap career if he wanted to, but he's too chill and wants to lay low."
Spencer also has a show-business career of his own, but fans aren't likely to recognize his face. He's done stunt work on a surprisingly varied array of movies and TV series, according to his IMDb page, with credits for Divergent, True Blood, Logan, and Sharknado. He also had a small acting role in the 2017 film Teleios, but for my money, his best on-camera work is the expression of annoyance he wears whenever he's confronted by Ryan Seacrest on the red carpet. Imagine if you had to talk to this dude a few times a year, and you didn't have to worry about how it affected your career. Spencer is doing it for all of us. Thanks, dude!
Spencer got the night off for the Golden Globes this year, as Emma joined a collection of women actors involved in the Time's Up movement in bringing a woman activist as her date. As Stone was nomination for her portrayal of Billie Jean King on the night, King was the natural choice. An advocate for both women''s rights and LGBT rights, she is also the founder of the Billie Jean King Leadership Initiative, the Women's Sports Foundation, and the Women's Tennis Association. She addressed her activism, and Emma's, during a red carpet interview, via People:
I think it's one step at a time. Every generation has to fight for equality and its now Emma's turn with her generation. And it's great to be here tonight wearing black. We really have to — it''s gotta stop, it's gotta stop now. And we have to help each other, and it's everybody, all genders together.
Emma rarely brings romantic partners as a date to awards shows, perhaps because she'd prefer to keep her private life just that. At the 2012 Nickelodeon Kids' Choice Awards, however, she did make a rare public appearance with her boyfriend at the time, Andrew Garfield, as noted by the Mirror. Throughout their relationship, they avoided the cameras whenever possible, sometimes trolling the paparazzi by covering their faces with handwritten notes urging fans to support their favorite charities, according to Express.
Most recently, she's been linked to Saturday Night Live director Dave McCary, according to People, but once again, they're trying to steer clear of the spotlight. Good news for Spencer, I guess!
Check out Romper's new video series, Bearing The Motherload, where disagreeing parents from different sides of an issue sit down with a mediator and talk about how to support (and not judge) each other's parenting perspectives. New episodes air Mondays on Facebook.