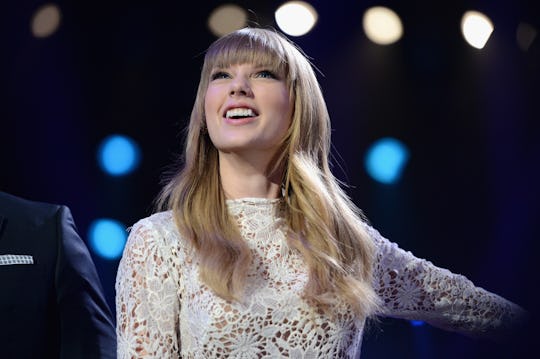 Michael Kovac/Getty Images Entertainment/Getty Images
Taylor Swift May Singing About Someone From Her Past In "End Game"
Pop music is about to get a major upgrade, as Taylor Swift's new album is finally here. And as fans around the world strain to analyze what each song could be about, many are curious about the album's only collaboration. So, who is "End Game" about? The rap-fueled song featuring long-time Swift bestie, Ed Sheeran, as well as Future, has just about everyone talking. In fact, after Swift released the official tracklist for Reputation, pretty much the entire internet went into a frenzy to see such a huge collaboration on the album.
While other pop artists have certainly flocked towards collaborating with rappers for a single, Swift has maintained her independence in both her songwriting and performances. That's why "End Game" is such a hit. Swift is bringing out two powerhouses to work with.
Swift and Sheeran have worked together before — on Red's "Everything Has Changed" — but this new album and this new song are both completely different in both tone and subject matter. While "Everything Has Changed" was quite lovely and soft, "End Game" is blaring, unapologetic, and honest to a fault. Swift opens the song, singing a melodic "I wanna be your end game," but she quickly delves into a bass-thumping stanza that might just give the biggest hint as to who the song is about.
The stanza above that gets repeated throughout the song by Swift. It paints a picture of her in a relationship with someone who also has a reputation. And, while it would be nice to imagine that this song is about her alleged current boyfriend, Joe Alwyn, those lyrics pretty much knock him out of the running.
After all, before dating Swift, Alwyn was largely unknown by the general public. Of course, he's a successful actor and the two have been together for quite some time now, but "End Game" isn't really a love song, per se. While wanting to be someone's "end game," "first string," and "A-team" certainly might seem like wanting to be madly in love, the tone of "End Game" is much more casual. Casual, like, I don't know, maybe a certain three-month romance Swift was in after breaking up with Calvin Harris that reportedly ended on semi-good terms?
Yes, folks, the world may actually have itself an actual HiddleSwift song. Back in 2016, Swift and actor Tom Hiddleston fell pretty hard for each other, meeting each other's families and getting caught in the midst of many public displays of affection. However, the romance only lasted 12 weeks before Swift reportedly pulled the plug, with a source telling Us Weekly, "She was the one to put the brakes on the relationship. They get along great and will remain friends."
So, that being said, could "End Game" be about Swift's relationship with Hiddleston? Well, the two A-listers certainly both have "big reputations," as Swift sings, and they were definitely a "big conversation" when they started dating. And, what's more, the line "I don't wanna be just another ex love you don't wanna see," seems to be pretty reminiscent of a platonic breakup, much like the one Swift and Hiddleston were rumored to have.
Beyond that, one of the lines Sheeran sing-raps, "After the storm, something was born on the Fourth of July," very much seems to be a reference to that Fourth of July party Swift threw back in 2016 when Hiddleston wore the infamous "I <3 TS" shirt. Yeah, the same shirt Swift referenced in her "Look What You Made Me Do" video.
Of course, the entire concept of wanting to be someone's end game definitely seems pretty serious, like Swift and Alwyn are rumored to be. But, it's important to remember that Swift is a writer, and she has the authority to blend experiences and feelings together to make a song that isn't completely dedicated to one relationship. So, no one can really say for sure what, or who, "End Game" is about, but fan theories are always interesting to read and think about, especially when it comes to the one and only Taylor Swift.
Watch Romper's new video series, Romper's Doula Diaries:
Check out the entire Romper's Doula Diaries series and other videos on Facebook and the Bustle app across Apple TV, Roku, and Amazon Fire TV.