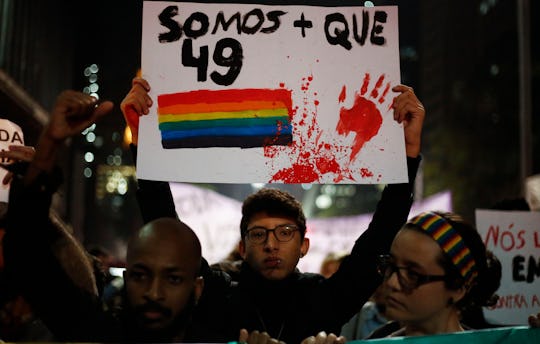 MIGUEL SCHINCARIOL/AFP/Getty Images
Who Is Enrique L. Rios? The Orlando Victim Had A 'Heart Of Gold'
The nation has been in mourning since Sunday when a gunman claimed the lives of 49 victims and injured dozens more at an Orlando LGBT nightclub. The massacre has been called the worst mass shooting in the United States. Both officials and families have grappling with the dreadful task of identifying and bringing home the victims. One of those 49 victims identified was Enrique L. Rios, a 25-year-old social work student who was visiting the Florida city for a friend's birthday celebration.
Rios traveled to Orlando from his home in Brooklyn, New York to spend the weekend with his friends. He last spoke to his mother, Gertrude Merced, on Friday before the shooting. Although she couldn't remember exactly what they spoke about, she remembered the upbeat sound of his voice.
"He just sounded so happy," Merced told The New York Daily News. "Enrique was a wonderful person. He loved everybody and everybody who knew him loved him."
Rios' family left for Orlando on Monday and started a "Go Fund Me" page to be able to bring him home for a proper funeral. Since Thursday evening, more than $32,000 has been raised for the family. Merced wrote on the page that her son was "a good kid" and "was just having a great time on his vacation, until this deranged man came in and shot the place up."
On Monday, Merced told reporters in New York before she left for Orlando she is not angry at the gunman. "I'm angry about the situation. I'm going to forever miss my son," she said. "But I still have the hope I'm going to see him again one day."
According to Rios' Facebook page, he worked at home health care agency in Brooklyn while he studied social work at St. Francis College. He was also actively involved in his faith and regularly attended Greater Free Baptist Church in Brooklyn with his parents, according to amNewYork. Bishop William Whitaker told the newspaper that Rios "had a love for God that was phenomenal." He added that he aced evening bible classes and regularly participated in the youth ministry.
"Lil brother I am sad that our Heavenly Father has called upon you so that you may server [sic] a higher purpose in life," Rios' brother-in-law wrote on his Facebook page. "I love you lil brother and I'll never forget you."
His cousin, Christine Jimenez, wrote on Facebook that Rios "was a great person with a heart of gold" and "he touched so many lives."
Family and friends of Rios paint a picture of a determined, helpful, and caring young man. As his loved ones, along with the nation, continue to grieve and mourn the tremendous tragedy on Sunday, we can look to Rios' loving and compassionate memory to use as guidance to unite as a community and as a nation.