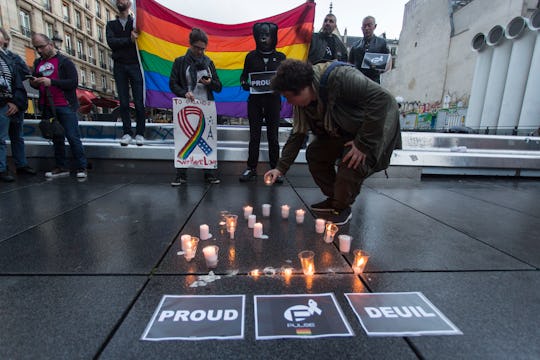 GEOFFROY VAN DER HASSELT/AFP/Getty Images
Who Is Eric Ivan Ortiz-Rivera? The Orlando Club Shooting Victim Was One Of First Six Named
At 2:02 a.m. on Sunday, a gunman entered a gay nightclub in Orlando and opened fire, killing 50 and injuring over 53 more, according to CNN. The City of Orlando created a page to honor the victims of the tragedy, releasing names as victims were identified and next of kin were contacted. Their names quickly began to spread on social media as the world paid their respects, and some may be wondering about the individuals behind the names. Who is Eric Ivan Ortiz-Rivera, one of the first individuals named by the City of Orlando after the attack?
(Update: The FBI has updated the death toll to 49 victims. The shooter was also killed.)
Not many details have emerged about 36-year-old Ortiz-Rivera, but he was one of the first six victims whose name was published by the City of Orlando following the Pulse nightclub attack. Other named victims included Luis Omar Ocasio-Capo, 20, and Edward Sotomayor Jr., 34. Investigations into the shooting are still ongoing, and the public will likely learn further details regarding the victims and the shooting itself as officials carry out their work.
However, here's what we do know. The suspect was gunman Omar Mateen, 29, a Fort Pierce-based security guard who called 911 just before the attack and pledged allegiance to ISIS. He had previously been investigated by the FBI in 2013 and 2014, who believed he might have ties to a known terrorist, but they did not think he was a threat, according to The New York Times. The two guns he used in the attack (an assault rifle and a handgun) were both legally purchased, within a week of one another, in Florida.
It is the deadliest mass shooting the United States has seen since the 2007 shooting at Virginia Tech. For the first time in the United States, Facebook turned on its Safety Check feature, allowing Orlando-based Facebook users to alert friends and family of their safety.
President Barack Obama spoke about the tragedy on Sunday morning, acknowledging the attack on the LGBTQ community and touching on the need for stricter gun control. But he also took a moment to acknowledge the individuals lost in the attack, along with their families:
In the coming hours and days, we'll learn about the victims of this tragedy. Their names. Their faces. Who they were. The joy that they brought to families and to friends, and the difference that they made in this world. ... We need to demonstrate that we are defined more — as a country — by the way they lived their lives than by the hate of the man who took them from us.
So here's to honoring Eric Ivan Ortiz-Rivera and the others lost in the Orlando attack. Let's remember their names above the attacker's, and in light of this tragedy, make the country a place that does right by their memories.