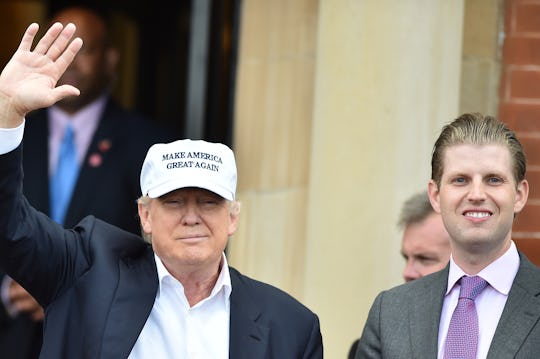 Jeff J Mitchell/Getty Images News/Getty Images
Who Is Eric Trump? Donald's Youngest Son Is Playing A Huge Role In His Campaign
Now that Donald Trump is officially the Republican nominee, his children are finally being brought into the spotlight. We know Ivanka, and everyone will get to know Donald Trump Jr. on Tuesday night at the convention. But who is Eric Trump? Eric is The Donald's youngest son and has been working closely with his father's campaign while running a charity foundation, The Eric Trump Foundation — which raises money for St. Jude's Children's Hospital — and taking over Trump Winery.
Eric Trump, now 32, attended Georgetown University and graduated with honors in finance. While at Georgetown he was a member of the Georgetown University College Republicans and attended meetings and events, according to then-chairman of the organization David Benjamin. "He was friendly, personable, and seemed like any other Hoya," Benjamin said in a statement to Romper.
Eric Trump is also now a member of the Advisory Board of the Business, Society, and Public Policy Initiative at Georgetown. He said in an interview with the university, "I deeply care about [founder Professor James P. Moore] philosophical and genuine approach as he strives to make a difference and effectuate topics of real importance."
Which is sort of how most of Donald Trump's children have made their way through public life. Basically, they hustle on their own. Eric, much like Donald Jr. and Ivanka, has made business his life. Recently, though, the Eric Trump Foundation came under some scrutiny for donations allegedly made by his father. "I'm sure there have been but without going back through 10 years, I wouldn't remember check for check off the top of my head," he told The Washington Post.
Eric has since been a strong spokesperson for his father's campaign, and he's now on the schedule of speakers for the Republican National Convention. That list also includes leaders of the Eric Trump Foundation and the Trump Winery.
Eric recently commented on his father's choice of running mate, prior to Trump announcing Indiana Gov. Mike Pence, saying that his older sister would be the best candidate for vice-president. "His best running mate, by the way, would be Ivanka," Eric joked to MSNBC. "I know that wouldn't pass muster, probably. But I don't know that I've met a more composed, brilliant, beautiful-in-every-way person."
Donald Trump on his own sometimes seems a little insane, at least to me. But when you take his family life into account and listen to his children, who are accomplished in their own right, he starts to make sense. When Trump talks about Americans "getting back to work again," it's interesting to note that, although they had so much privilege, his kids haven't just coasted through their careers. They worked hard and stand up for their father. That, even for an ardent Trump opposer, is something to consider.