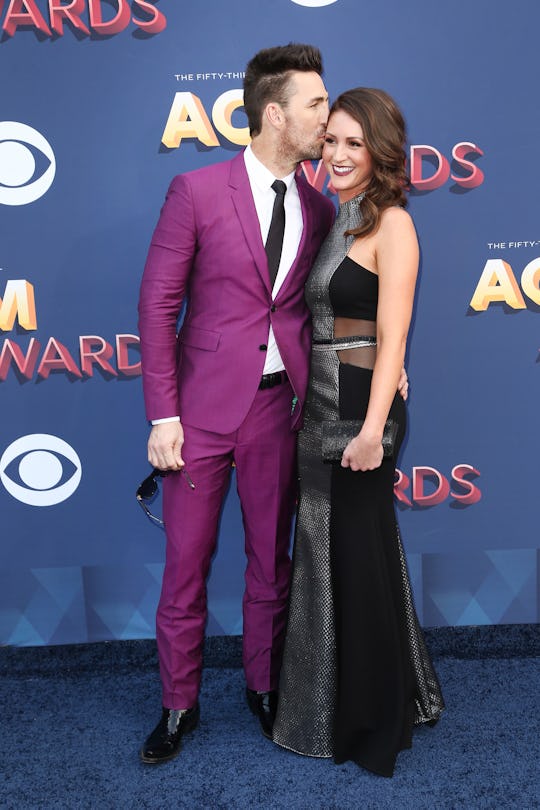 Tommaso Boddi/Getty Images Entertainment/Getty Images
Who Is Erica Hartein? Jake Owen's Girlfriend Is Newly Pregnant
There's some really great news going around the country music community, and it's that one of the most up-and-coming musicians will soon be a father of two. During ABC's I'm Coming Home special, Jake Owen revealed that he is expecting his second child. It left many fans wondering: Who is Erica Hartlein? Jake's girlfriend seems over-the-moon with the news of her pregnancy.
During the special, which People reported aired on Nov. 22, Owen revealed the news, saying: "This'll throw you guys for a loop... [We] haven't told anyone, but Erica and I will be having a little addition to our Owen family." Hartlein added: "Now I'm gonna turn really red!" before Owen's mom said she hoped it would be "twins." Later, Owen's rep confirmed to People that Hartlein is due next spring or early summer, and that their new child will be joining Owen's now 6-year-old daughter Olive, who reportedly goes by her middle name, Pearl.
The couple, who the Daily Mail reported have been dating since April 2017, have mostly kept their relationship as private as possible. The site reported that they didn't even make their official couple "debut" until this year's Academy of Country Music Awards.
However, it's clear that everyone is beyond excited for the newest member of the Owen family to arrive.
As for Hartlein, she is an interior designer that met Owens while she was working on his house in Nashville last year, website Taste of Country reported.
According to her LinkedIn profile, Hartlein is (or formerly was) a gallery designer at Restoration Hardware, based in Nashville. Though the page doesn't note whether or not that information is up-to-date, it's clear that the couple probably connected over a shared love of all things aesthetically appealing.
Disappointingly, Hartlein's Instagram and other social media profiles are private, and Owen doesn't post about their relationship often (nor has he made the pregnancy announcement Instagram official, though it has been confirmed). It's clear that the couple really does prefer to keep their life out of the public eye, which is totally understandable.
Though Owens has not shared his own feelings about Hartlein's pregnancy, it's likely that he's really excited to be a dad again. In 2015, Owen did an interview with Entertainment Tonight in which he opened up about how amazing it was to be a father to Pearl, whom he shares with his ex-wife Lacey Buchanan.
"Having a child now, there are times I look at her and times like takin' her fishin' or takin' her out on the boat — when she grows up, that's what's gonna be real to her," he said. "She's gonna talk about the times she learned to fish with daddy or went out on the boat and learned how to surf, those are gonna be the things that are real to her."
Owen continued: "Just the daddy-daughter dates that we have together, that's a big deal not only to her, I'm sure down the road, but it's a big deal to me right now."
It was around the same time that Owen announced his split from Buchanan. Us Weekly reported he said in 2015: "I wanted to let my fans know how much I've appreciated their support of not only my career, buy my family as a whole. Sadly, Lacey and I have decided to end our marriage ... We want to focus on our daughter Pearl and make sure that she has a beautiful life with loving parents. We appreciate you respecting our privacy during this time."
Be all of that as it is, it's clear that Owen has found happiness once again in Hartlein, and it will be so exciting to watch the family grow their family even more.