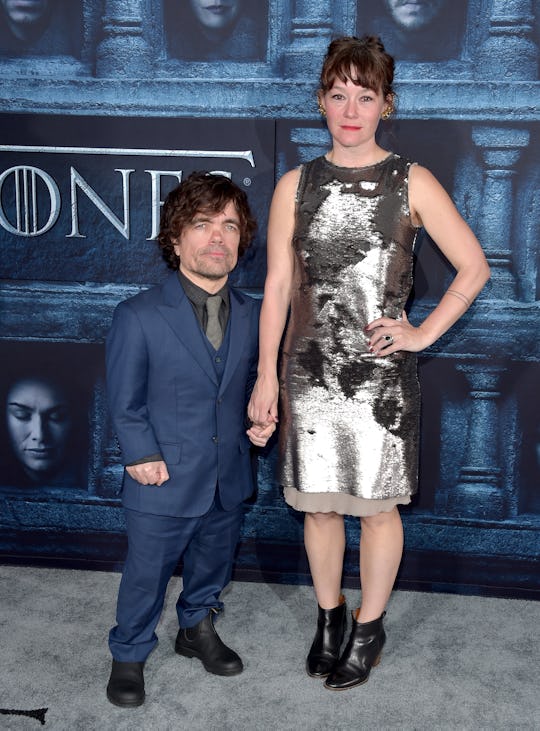 Alberto E. Rodriguez/Getty Images Entertainment/Getty Images
Erica Schmidt: Brilliant Director, Expectant Mom
Game of Thrones star Peter Dinklage has a growing family, with recent reports claiming that he and his wife are now expecting their second child. If you're clued into the theater world, it's possible that you may know who Erica Schmidt is already. If not, there's plenty to learn: She's an award-winning director in her own right, and has a play that just premiered this week, off-Broadway.
Dinklage and Schmidt have lots in common, especially where work is concerned. Schmidt's been involved in all parts of the theater scene (pun intended) from acting to writing and, her current gig, directing. Her IMDb profile is pretty impressive, showcasing various theatrical endeavors that she's taken on over the years.
Schmidt found her way to directing by happy accident. Initially, she was putting all of her efforts into getting cast as an actor herself, but found that roles were hard to come by. Her solution? Create a company of her own in order to give her friends roles, with the idea that "this time I'll direct and you guys get to act, and next time you direct and I'll get to act," she told This Stage Magazine. Schmidt's directing skills eventually won out, however, so that she ultimately stayed firmly planted in the director's chair; "That next time just never came around," she said.
As mentioned, her work is currently on display for the public. Schmidt's latest production, All the Fine Boys, stars young actors Abigail Breslin and Isabelle Fuhrman. In fact, the new baby news was revealed on the All the Fine Boys red carpet, as cast members posed with their hands on Schmidt's pregnant belly. As writer and director of the play, Schmidt's off-Broadway presentation delves into two young teenage girls' sexual awakenings, in the context of their friendship as well as their relationships with two older boys.
Proud of his talented wife, it's clear that Dinklage is Schmidt's number one fan. Lauding her as "brilliant" in a 2015 interview with The Guardian, he insisted that Schmidt is something special. "Unlike a lot of other people in our profession where film is the ultimate goal, theatre is sacred to her. It's not entertainment; It's art," he expressed.
Odds are that Dinklage and Schmidt will do all within their power to keep their family life from becoming a public spectacle. The couple's first child was born in 2011, but they've managed to keep her name and date of birth a secret all this time. Though tabloids call the kid "Zelig," Dinklage has clarified: "Let me tell you right now: Her name is not Zelig. But it's hilarious that that's a fact in Wikipedia." Hilarious indeed. Regardless of the new baby's name, one thing's for sure — the new little one will have a loving, artistic, and talented family to support them, no matter what.