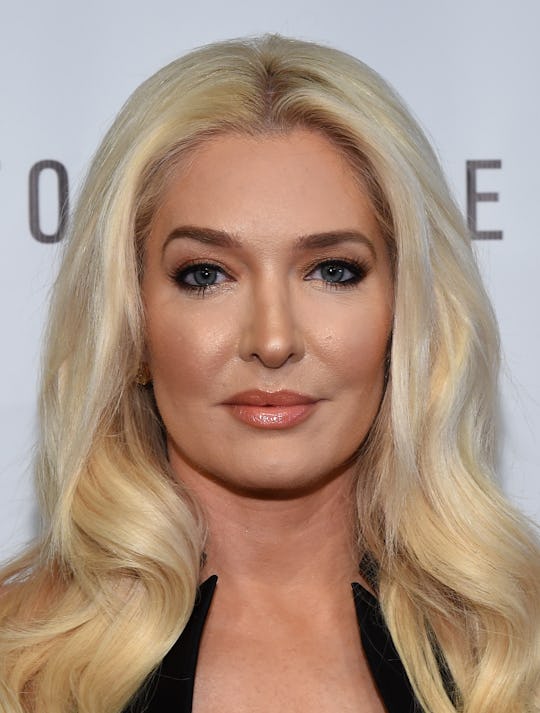 Ethan Miller/Getty
'RHOBH's Erika Girardi Is Opening Up About Her Son
To a Real Housewives layman, Erika Girardi may just appear to be your average gorgeous blonde housewife who moonlights as a pop star under the name Erika Jayne, with a slew of fashion minions to pick out her fabulous wardrobe. But a real fan knows she's also a mother. So who is Erika Girardi's son? This particular housewife hasn't spoken a lot about her only child, but that appears to have been mostly his choice. It turns out, he's an adult and she's incredibly proud of him, though, she does worry as all mothers tend to do.
According to Okhereisthesituation.com, before marrying her current husband, high-powered Beverly Hills attorney Tom Girardi, Erika was married to a man named Thomas Zizzo when she was only 18 years old. By the time she was 21, she was a mother. Her son Tommy Zizzo is now 23 years old and works as a police officer in L.A., which is where he moved to from New Jersey back in 2014 and where he graduated from the police academy. And while she worries about him being in such a dangerous job, she knew that it was what he always wanted to do and she supports him in his life no matter what he does. Sounds like an A-plus mom decision to make to me.
During a recent interview with Bravo's The Daily Dish, Erika said:
It's a dangerous profession. I've known my son was going to be in law enforcement from the time he could walk and talk. That's all he's ever wanted and that's kind of your role as a parent is to honor who your children really are.
It's not every parent who can be this supportive of their children no matter what they decide to do, and personally I applaud this attitude of Erika's. It definitely seems to jive with the kind of person she is, and her dedication to following one's own truth. She herself has gotten a lot of unwarranted criticism for her racy performances and even her decision not to wear underwear under a tight dress because she didn't want a panty line, but that's part of what makes her so great. No matter what, she's always stuck to her guns.
It's nice to see that she supports this same freedom for her son. She went on to say, "I don't have any requirements for my son, who he dates, because he's an adult. He has good judgment and he has a great head on his shoulders." Erika's son hasn't appeared on the show yet, and it would be extremely surprising if he ever did. But Erika will continue to be my favorite Real Housewife, and the real Queen of Beverly Hills. (Just don't tell Lisa Vanderpump.)