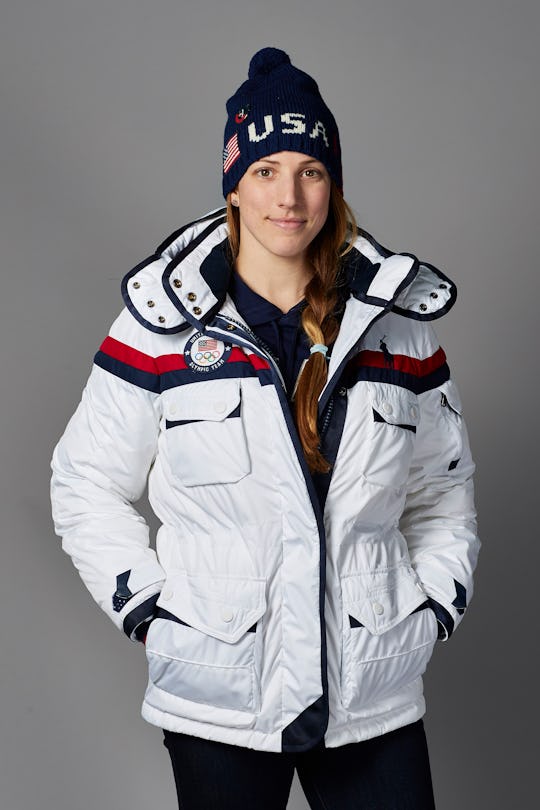 Joe Scarnici/Getty Images Sport/Getty Images
Here's Why Erin Hamlin Being The US Flag Bearer Is Sparking So Much Controversy
Just a few days before the Winter Olympics are set to kick off in PyeongChang, South Korea, it was announced on Thursday that four-time Olympian Erin Hamlin will be the flag bearer for the United States at the Opening Ceremony, according to CBS News. Considering the role of the Olympic flag bearer is a big deal, to say the least, many people want to know all the details about Hamlin's background. So, who is Erin Hamlin? It turns out Hamlin is a well-respected and accomplished athlete.
On Friday, Hamlin will carry out the important task of representing the United States during the Parade of Nations, a tradition that has occurred during the Opening Ceremony since 1908, according to Guinness World Records. As the name implies, the Parade of Nations is when participating Olympians enter the Olympic stadium, country by country. It's also important to note that the Closing Ceremony has a different flag bearer than the Opening Ceremony. At this time, the flag bearer for the Closing Ceremony has yet to be announced.
Hamlin, who will lead the United States during the Opening Ceremony at the PyeongChang Winter Games, joins an impressive list of past flag bearers, including Simone Biles, Michael Phelps, Julie Chu, and Mia Hamm, to name a few.
And by all accounts, Hamlin more than deserves to receive this high honor.
Hamlin, who hails from Remsen, New York, is a four-time Olympian luger who was the first U.S. athlete to win an Olympic singles luge medal, according to NBC Olympics. In addition to Hamlin's inspiring Olympic career, she's also a two-time luge world champion and a winner of 23 World Cup medals, according to USA Today.
Side note: If you're wondering what the heck luging is, here's a visual:
As for Hamlin's response to the flag bearer honor, her response was exceptionally humble. "It was a pretty big shock," Hamlin said, according to Good Housekeeping. "But it is an honor and a privilege to be recognized by all of Team USA." And considering Hamlin is retiring after PyeongChang, according to NPR, one can imagine this once-in-a-lifetime opportunity means a lot to her.
Following the news about Hamlin's distinction, many people took to Twitter to praise her as a role model and exceptional athlete:
Amid all the well-wishes, however, a bit of controversy surfaced about Team USA's pick. Apparently, Olympic speed skater Shani Davis isn't thrilled that Hamlin was chosen as the flag bearer instead of him, according to Cosmopolitan. Hamlin and Davis both received an equal amount of votes among USA team representatives, a quandary which was ultimately resolved with a coin toss. Davis, according to a tweet on Thursday, found the coin toss "dishonorable." Romper has reached out to Davis' representative and the U.S. Olympic Committee and is awaiting a reply from both parties.
Davis wrote, according to Mashable:
I am an American and when I won the 1000m in 2010 I became the first American to 2-peat in that event. @TeamUSA dishonorably tossed a coin to decide its 2018 flag bearer. No problem. I can wait until 2022. #BlackHistoryMonth2018 #PyeongChang2018.
Although it's not immediately clear what Davis found to be dishonorable about Team USA's tactics (the U.S. Olympic Committee traditionally relies on a coin toss when there's a tie, according to The Guardian), or what he really meant to imply with his reference to Black History Month, it's obvious most people aren't thrilled with his remark. Many fans think the tweet is bad sportsmanship on Davis' part:
A few others, however, are on Davis' side:
At this time, Hamlin has yet to address the controversy surrounding the incredible honor. One can imagine Hamlin is too busy preparing for the Winter Games and is soaking up this very important moment in her life.