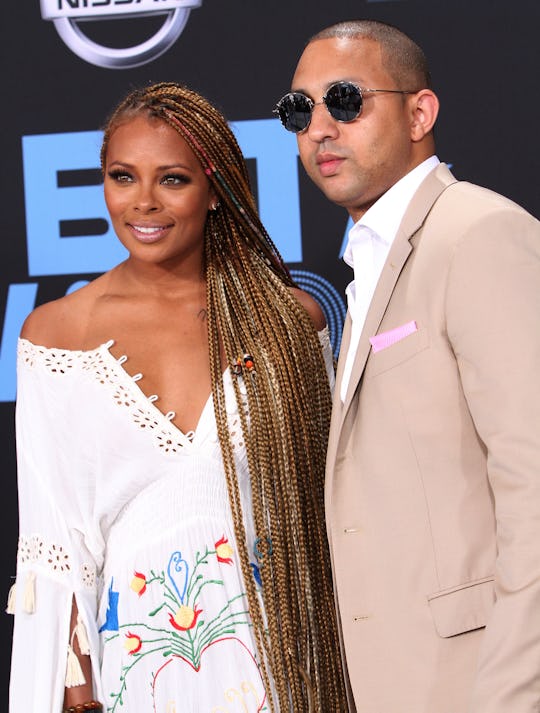 Maury Phillips/Getty Images Entertainment/Getty Images
*This* Is Who 'RHOA' Eva Marcille Married In October
If you're a fan of the Real Housewives franchise, buckle up. Eva Marcille from Atlanta officially became a Mrs. on Sunday, Oct. 7. The ceremony will be part of RHOA's season finale. Yep — they're saving it for the very end to keep you on your toes. And while the loving couple have been engaged since December 2017, you may be still wondering: Who is Eva Marcille's husband?
The lucky groom is Michael Todd Sterling — former assistant United State attorney under the Barack Obama administration. And the wedding, according to BET, was a $200k affair with 12,000 fresh flowers. (Wow.) The two welcomed their first child together, Michael Todd Sterling Jr. in April, joining Eva's 4-year-old daughter, Marley Ray, from a previous relationship. Eva (aka cycle 3 winner of America's Next Top Model) wed the lawyer after dating for over a year. When Michael proposed, only a month had passed since Eva announced her pregnancy.
With two kids, a hit show, and other responsibilities, Eva told Bravo's The Daily Dish how chaotic the year had been saying, "Smack in the middle of it, I have to plan this honeymoon." She continued, "and I am my mother's only daughter, so Mommy is very invested in this wedding. It is the wedding she never had but always dreamt she would, so I'm getting married for my mom." That heartwarming sound you hear is mothers all over the world sighing with contentment.
Earlier in the year — and before she gave birth — Eva told Entertainment Tonight how wedding plans were coming along. "We are so excited," she said. "You know, I'm marrying the man of my dreams. He's the father of my child. He's my everything. We've been figuring our life together for the last few years and it's been one of the most amazing journeys. So, now, to culminate that and really start a whole new situation, which is life together, as husband and wife, I couldn't be more excited! So, I'm not wasting any time with the wedding planning."
With Michal as a former mayoral candidate for Atlanta, you might wonder how the two will spend their lives in front of the camera as opposed to a political office. "He's not really into reality TV at all," Eva said to ET. "He takes it in doses. He doesn't really understand it. He's like, 'Why is the camera following these people while they go eat dinner? I don't get it.' But, he does know that he fell in love with an entertainer. So, my life and what I'm used to is a lot different than, you know, what he's used to." When it comes to whether or not Michael's on board with the whole Housewives lifestyle, she added, "It may not be his first choice, but he doesn't knock it."
It's good to know the two know how to compromise and work as a team — especially with a 4-year-old already in Eva's life.The Daily Dish asked Eva back in March how the unity might potentially impact Marley. "He's an amazing dad. He has become a dad to my daughter, Marley. He's her favorite person, and I'm like, 'I birthed you. I was here first.' But like, she's in love with him. It's like daddy-daughter. It's adorable," Eva gushed. "He's a provider. He's a protector."
Eva's OB-GYN doctor, Married to Medicine's Dr. Jackie Walters, was one of the attendees at Eva's garden-themed bridal shower, and gushed about how on-point Eva was throughout pregnancy — even with hectic wedding planning. "She was glowing," Dr. Jackie said. "It was really nice. Just fun, Eva-like. She was walking all Top Model-ish with her nice, flowing, designer gown."
As for the wedding itself, People reported NeNe Leaks, Cynthia Bailey, Porsha Williams and Marlo Hampton were in the pews with 231 other guests. The pro model graced the aisle in a designer gown and veil (by Daughters of Nonyelum, International Haute Couture, and Hollywood Royal Showroom), a dazzling tiara, and custom Gucci sneakers with her father on her arm.
"I have been fortunate as a model to wear the most amazing designers and the most beautiful gowns so today I wanted to look like a bride, [and] I wanted to feel like a bride and I wanted a wedding dress, and now I feel like a princess," Eva said. "To know me is to know I'm still practical," she added. There were two other dress changes because it's her day. Marley donned a similarly styled dress and 6-month old Michael wore a mini Dolce & Gabanna tux. Um, adorable much?
Eva spoke with the Daily Mail before jetting off to the island of Santorini, Greece for the 2-week honeymoon to talk about the new chapter in her life. "I've spent my life trying to find out who I am and trying to find him and now life's taken me on a journey to the man of my dreams."
To the happy couple: may your home be filled with laughter and joy, and your RHOA season be as drama-free as possible (but, as a viewer, a little is cool).