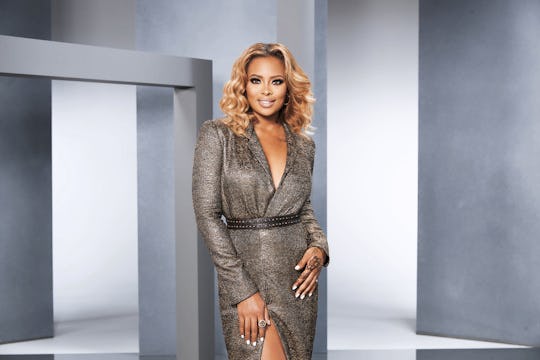 Alex Martinez/Bravo
Eva Marcille Walks Out On Her Mom On 'Real Housewives Of Atlanta'
The new season of the Real Housewives of Atlanta is in full swing, and newcomer Eva Marcille is already involved in a fair share of the drama. In a preview for the upcoming Dec. 2 episode, the bride-to-be is seen butting heads with her mother over her wedding guest list. The matriarch looks like one tough mama, so RHOA fans are wondering, exactly who is Eva Marcille's mom?
Eva's mom is Michelle Pigford, and in the trailer for RHOA's latest episode, you can see that she's not the type of mom that holds back her opinion. In the preview, Eva and Michelle are eating lunch at a restaurant while discussing the upcoming nuptials. Eva tells her mom that she has already configured a guest list with fiancé Mike Sterling, and that her side has the least number of guests. "There are 150 people coming and my part is 40 people," she tells her mom. "And that includes all close immediate family and friends."
But Michelle was not ready to hear it. "I have a problem with that," she tells Eva defiantly. "There's a few more I want to invite." She calmly tells her daughter that wants to invite a few of her supportive friends, despite them not being a big part of Eva's life. "You think that deserves an invitation to the wedding?" Eva asks her mom, "I don't." She goes on to explain to Michelle that the wedding is expensive, and the cost per guest is significant, so they need to keep their number of guests limited.
Michelle doesn't think that 20 extra guests will make a difference on the total cost, but when Eva tells her that it will make her feel bad, her mom doesn't back down one inch. Eva explains that as a bride she shouldn't be the one upset on her wedding day, but her mom abruptly shuts down the conversation. In tears, Eva gets up from the table and walks away, telling her mom she'll be back in a few minutes. As a testament to her toughness, Michelle continues to casually eat her lunch as if nothing ever happened.
But despite the drama shown in the preview, Eva and her mom seem to share a pretty tight bond. On her Instagram account, Eva has shared plenty of loving pics with Michelle, including one post from her October wedding (RHOA was taped over the summer) calling her mom her biggest support. "My wedding day was so magical," she captioned the photos. "And words can't express my gratitude to my mommy for being my rock."
It seems like Eva and her mom may have come to a compromise over wedding guests, because Michelle posted an Instagram picture of the wedding with nothing but glowing words for her daughter. "One of the happiest days of my life," Michelle captioned a family picture from the wedding day. "My only daughter married her Prince Charming, making her Princess dream come true. So precious...God is good."
But I don't think Eva's mama drama is going to be anything compared to the confrontations she'll face on RHOA. She's already embroiled in spats with castmates Shamea Morton and Cynthia Bailey over alleged shade she may have thrown their way. Of course, all that drama is what makes RHOA so much fun to watch, and it'll be interesting to see how Eva navigates it this season.
The Real Housewives of Atlanta airs new episodes on Sundays at 8 p.m. ET on Bravo.
This first-time mom wants to have a home birth, but is she ready? Watch how a doula supports a military mom who's determined to have a home birth in Episode One of Romper's Doula Diaries, Season Two, below. Visit Bustle Digital Group's YouTube page for the next three episodes, launching every Monday starting November 26.