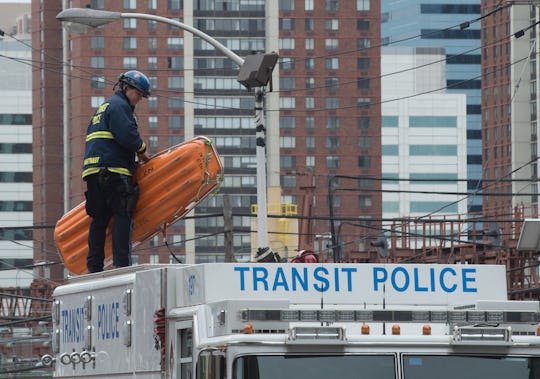 BRYAN R. SMITH/AFP/Getty Images
Who Is Fabiola Bittar De Kroon? The Hoboken Train Crash Victim Left Behind A Happy Family
Authorities on Thursday began releasing further details surrounding a horrific crash at major New Jersey Transit station in Hoboken, which left 108 people injured. The crash occurred after the train reportedly overran its designated stop, ran into a bumper block, and derailed, according to WCVB. Police reported one fatality, Fabiola Bittar de Kroon, a 34-year-old mother of one, among the victims list.
According to CNBC, de Kroon, a native of Brazil, had previously worked within the legal department of global software company SAP before leaving the company earlier in 2016. "We express our deepest condolences to her family, friends, and all those impacted by today's tragic event," the company said in a statement to the outlet.
Previously, de Kroon had earned an MBA in Florida, where she had also met and married her husband of eight years, Daan. The couple had an 18-month-old daughter together and had reportedly been discussing the idea of having a second child, according to a friend who spoke on condition of anonymity with The New York Daily News on Thursday. "She and her husband married several years ago and they spent a long time fostering a beautiful relationship," the friend said. "She and her husband were such a great couple to be with because they had such synergy together." The friend added that de Kroon and her husband were outgoing and had enjoyed traveling, living in Miami and São Paulo at one point.
"She was so outgoing, very smart and career-focused, but she was also open to other cultures," de Kroon's friend told the outlet. "She loved being social, going out for meals, hanging out with friends."
People reported that de Kroon had dropped off her daughter at daycare before heading to the station Thursday morning. She had reportedly been standing on the platform at the Hoboken station when the train derailed at 8:45 a.m. ET. Authorities later stated that de Kroon was killed by falling debris. Her husband was out of the country at the time.
Speaking with the Associated Press, former coworker Cecilia Marques said that she was "shocked" by de Kroon's tragic death.
"I am speechless and feel like the world stopped for some moments," Marques told the AP. "I had the privilege to get to know and work with Fabiola for some years, and I can say she was a great, talented, big and genuine heart."
In a conversation with The New York Daily News from her home in Santos, Brazil on Thursday, de Kroon's mother, Sueli Bittar, said she was still trying to cope. "I had a beautiful, clever daughter and I have a wonderful granddaughter," she said. "Her husband is a wonderful guy. I don't know what to tell you because it's very hard for us now. It is very sad."
De Kroon's husband has not yet issued a formal statement.