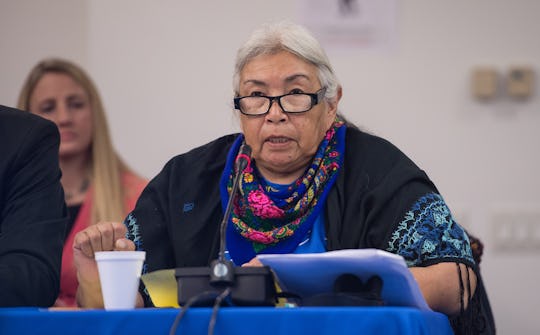 NICHOLAS KAMM/AFP/Getty Images
Who Is Faith Spotted Eagle? She Received One Electoral College Vote
Although there were some Democrats who hoped to turn some of the Electoral College votes for President-elect Donald Trump into votes for Hillary Clinton on Monday, some electors had other plans for their "faithless vote." In Washington state, three electors who were supposed to vote for Clinton instead voted for former Secretary of State Colin Powell and one other voted for Faith Spotted Eagle. If you don't know who Faith Spotted Eagle is, you're not totally alone, as the Yankton Sioux Tribe elder didn't exactly run a national bid for the White House.
But she is politically active. Spotted Eagle is best known for her activism in the name of indigenous peoples. She led protests of the Keystone Pipeline XL in 2015 and most recently testified before the Inter-American Commission on Human Rights in early December, as a member of the Standing Rock Sioux Tribal Council concerning the treatment of #NoDAPL protestors.
During her testimony there, Spotted Eagle said that the "rape of Mother Earth is the rape of women." She is also the founder of the Braveheart Society which, she described in 2015 to the Indian Country Media Network, as a 20 year old society whose mission is to "to resolve conflict, preserve culture and language and assure a place for our grandchildren in the future. "
Spotted Eagle said of her organization, "We refuse to replicate neo-capitalism and strive to not be oppressed by colonizing processes, including not taking federal funds. We have a 50 year strategic plan in order to accomplish that."
In regards to the Keystone Pipeline XL in 2015, Spotted Eagle seemed hopeful that there could be cooperation between Democrats, Republicans, and the indigenous people that live on the land being developed by the energy and oil industries. She told Indian Country Media Network:
We are encouraged that several Democratic legislators are coming to their senses due to the outrageous behaviors of the Republican party. We believe that the spirit of our prayers is still moving and will continue into the generations to come, just as we stand on the prayers of our ancestors. The spirit is moving and we will continue to prevail in our fight to defend Mother Earth. This defense of Mother Earth has brought together unprecedented alliances of parties that we never dreamed would be on the same side.
It's not likely that Spotted Eagle expected an electoral vote or would even want to leave her activism for the White House, but it was a symbolic move from one of the 12 Washington electors, all of whom were pledged to the Democratic nominee. All four Democratic electors risk a $1,000 civil fine for changing their vote, according to a Tweet from Washington's Secretary of State Kim Wyman vowing to uphold the state's faithless voters regulations.