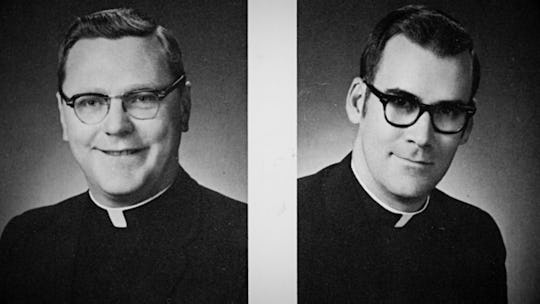 Courtesy of Netflix
Father Neil Magnus Held An Important Position At Keough High
Netflix's The Keepers explores the potential horror of those living a life of serving realistically living a life inflicting abuse. Father Maskell, who was never charged with a crime revolving around the abuse at the Archbishop Keogh High School and denied claims, is one crucial character to the new series. But, there were reportedly more than a few men allegedly involved in the abuse going on at Keough, including another man on the faculty who also plays an important part of the story told in The Keepers. His name was Father Neil Magnus. But who is Father Neil Magnus on The Keepers?
Magnus was the Director of Religious Studies at Keough at the same time Maskell served as the school's chaplain: throughout the late '60s and '70s, though exact dates of his employment there are difficult to find. He was one of many accused of taking part in the abuse of the students, alongside unnamed officers from the Baltimore police force and Dr. Christian Richter, a gynecologist Maskell took the girls to (Richter denied his involvement in the abuse, though he admitted Maskell would be in the room during exams).
One woman, Teresa Lancaster, recalled that she had asked Magnus for help with what was going on with Maskell. "I asked Father Magnus in 1970 if he'd be my counselor because I was being sexually abused by Father Maskell," Lancaster told Inside Baltimore in 2014. "But Father Magnus said, 'I'm sorry, but I can't help you. Try to stay away from him.' And then he shut his office door in my face."
Jean Hargadon Wehner also allegedly sought Magnus' counsel while at Keough to deal with abuse she had suffered as a child. According to her, Magnus and Maskell both began abusing her simultaneously, while claiming they were trying to help her heal spiritually. "I thought they were literally praying for me," she told The Huffington Post. A third unnamed woman alleged Magnus and Maskell had raped her during a Catholic Youth Organization picnic during her freshman year at Keough after possibly drugging her drink. (Maskell denied initial accusations until his death in 2001, and was never charged with a crime.)
It seems as though Magnus went on to become the principal of Towson Catholic High School in Maryland six years before he died in 1988, according to the Church of Immaculate Conception. The abuse allegations were never publicly revealed during Magnus' lifetime, so no one was aware of his alleged involvement until after his death; the allegations against him, Maskell, and Keough didn't come out until 1994. At that point the statute of limitations had run out. Since Magnus was dead, he could no longer be held accountable for his accusations.