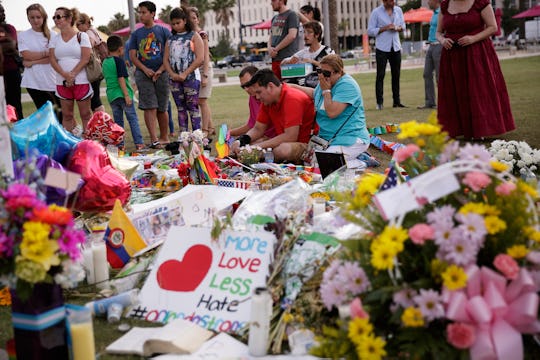 Drew Angerer/Getty Images News/Getty Images
Who Is Frank Hernandez? The Calvin Klein Employee Was Loved By Many
Frank Hernandez (also known as Frank Escalante) and his partner, Brett Rigas, were both at Pulse nightclub on Sunday. Rigas survived; Hernandez did not. Who is Frank Hernandez? According to those who loved him, he was a lively, fun man with a big heart.
Hernandez spent his childhood in Texas, the St. Louis Post-Dispatch reported; he moved to the Orlando area several years ago. After the terrorist attack on Pulse, Rigas called Hernandez's sister, Julissa Leal Escalante. According to the Miami Herald, Rigas told her he'd been hit by gunfire and tried to get away, but in the process he got separated from Hernandez. Rigas described the nightclub attack in an interview with Anderson Cooper for CNN. According to Rigas, he was getting a drink during last call when the shooting began; initially, he thought it was part of the music until he started to see glasses shattering. Rigas dropped to the floor and started crawling. Police attempted to evacuate everyone hiding behind the bar, but the gunman was still active; as the shots continued, first responders told everyone to get down until they were able to move them out safely. When it seemed that they had a window of time to escape, the police told everyone to run. Rigas finally left the club at about 2:45 a.m. and assisted in carrying another gunshot victim. He looked for Hernandez outside but couldn't find him.
We were right next to each other. Like, the same place that I stand every time I go to that bar, and I just happened to be on the end of the bar and was able to get to safety, and we lost each other in the shuffle of everything going on.
When it seemed as though attempts to find Hernandez didn't work, Escalante and her mother, Esmerelda Leal, got into the car and made a 12-hour overnight trip to Florida from Louisiana, according to the Miami Herald. When the two arrived in Orlando, they discovered that Hernandez died in the Pulse attack, NPR reported. He was 27. Julissa Leal Escalante posted news of Hernandez's death in Orlando to Facebook on Monday, KLFY News 10 reported:
I honestly don't know how to say it, I don't want to say it, I don't even want to believe it. I don't understand why he had to be one of the many victims who didn't make it. Why did it have to be him of all people. They took my big brother away from me, they took him away from us. Frankie we love you, we will always love you and we will never forget you. You will always be in my heart. I love you Frankie
Another sibling, Jessica Leal, told the St. Louis Post-Dispatch that Hernandez was a big fan of fashion, Beyoncé, and spending a night out dancing. He managed a Calvin Klein store; the company responded to the tragic loss on Twitter:
Rigas is still reeling from Hernandez's death. Talking to Cooper, Rigas described his partner as "an amazing person;" the two were approaching their three-year anniversary in September.
He was always a lot of fun. Like, he just was always the life of the party, making jokes, and just a great person all around.
Aquí Estamos RGV, an organization supporting LGBTQIA people of color, honored Hernandez in a Facebook post, according to Rio Grande Valley's CBS affiliate:
It breaks our hearts to announce that we have received confirmation that Frank Escalante, a member of our LGBTQ Rio Grande Valley family, lost his life at the #OrlandoShooting yesterday. Rest in power, Frank. We will shine light on your life tonight at Orlando Shooting Vigil: Stand with LGBTQ Community.
An individual self-identified as Hernandez's best friend, Linda Garza, started a GoFundMe page to help the family with any funeral and medical expenses.
The attack on Pulse nightclub occurred Sunday morning, ABC News reported. The gunman used an AR-15 gun to kill 49 people. After three hours holding hostages in the club, the ISIS sympathizer was killed by law enforcement. 53 individuals are recovering from their injuries.