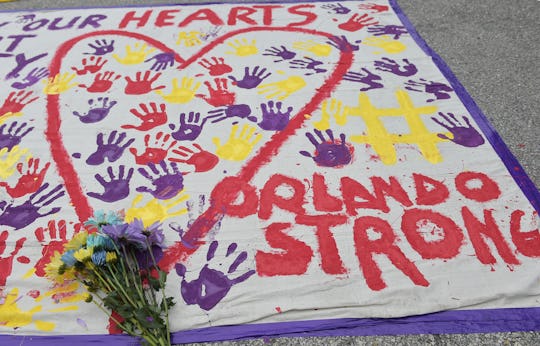 MANDEL NGAN/AFP/Getty Images
Who Is Franky Jimmy Dejesus Velazquez? The Professional Jibaro Dancer Was Killed At Pulse
As of Monday afternoon, all but one of the 49 victims killed in Sunday morning's devastating shooting at an Orlando LGBT nightclub have been identified by Orlando law enforcement. Details about the victims' lives have begun to emerge since victims were first being identified and announced by Orlando Police, including Franky Jimmy Dejesus Velazquez. Who is Franky Jimmy Dejesus Velazquez? The 50-year-old was the oldest victim of the 48 names known so far.
According to his Facebook profile, Valazquez — who went by the name "Jimmy" — was a native of San Juan, Puerto Rico. There, he graduated from Josefina Barcelo High School and attended Inter American University of Puerto Rico at its Metro campus. Valazquez was a visual merchandiser for clothing retailer Forever 21, and was a professional Jibaro dancer — a style of Hispanic folk music from Puerto Rico — who traveled the world.
His sister, Shiela D. De Jesus, posted to Facebook over the weekend concerned that her brother may have been one of the victims in the nightclub shooting. Early Monday morning, De Jesus confirmed the news that her brother had, in fact, been one of the 49 victims killed Sunday morning. De Jesus lives is San Juan, as does their mother, Aida.
On Saturday night, Pulse Orlando, described on its Yelp page as a gay bar and dance club, hosted a "Latin Night" event. The popular nightclub drew many members of the LGBT Latino and Hispanic community of Orlando, with as many at 320 people estimated to have been in the club at the time of the attack. Valazquez was one of dozens of Hispanic men killed Sunday.
While not much else is known about Valazquez, his Facebook profile is filled with many images with inspirational quotes. Two years ago, he created a #FacebookIs10 video recap of his life on Facebook to that point; viewing it now is a haunting legacy left behind of a man who clearly loved life and lived vibrantly. His last Facebook post — made just hours before the massacre in the club — was an image with the words, "Cuando pierdes, no pierdes la lección" — translated in English, it reads, "When you lose, don't lose the lesson" — a quote attributed to the Dalai Lama. He captioned the image with "Wow, wise words."
The deaths of Valazquez and those 48 other clubgoers Sunday morning at the hands of 29-year-old shooter Omar Mateen — who was shot and killed by police — have cast a shadow on numerous communities, from the LGBT and Hispanic communities, to the greater community of Orlando. And truly, it's a shadow that's been cast across the entire country.